Ten infuriating MLB players to watch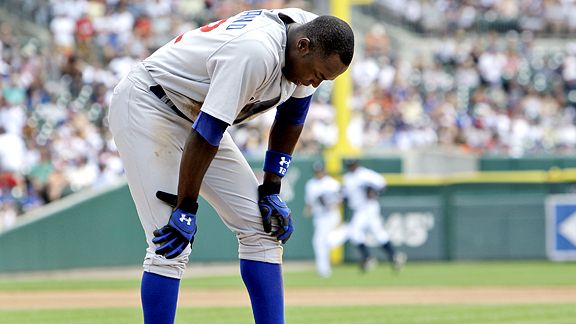 Whether it's that reliever that always seems to blow tight games in late innings, that batter that leaves runners on the bases, or that starter that walks seven batters an inning, every team has at least one player that as a fan, you'd rather set your eyelids on fire than watch trot onto the field for just one more inning.
I've compiled a list of 10 infuriating, punch-a-hole-through-your-wall MLB players to watch. Granted, this list is by no means all-inclusive (and I implore you the reader to list the guys that drive you nuts in the comments section). But these are the 10 that seem to make my blood boil on a consistent basis, whether they're playing for my favorite team or not.
Julio Lugo, OF, Red Sox
I would lose the respect of all Boston fans if I didn't have Lugo's name on this list. It's not only that Lugo can't field and flails at pitches like a schoolgirl trying to swat away a bee on the playground, but also that he's being paid $9 million a year to look so bad. He has zero range defensively and he also has a knack for turning double plays at a snail's pace. Granted, he's been delegated a backup behind Nick Green at short, but just the mere idea that Lugo is still on the roster must make BoSox fans want to toss their last meal. Whenever the BoSox do decide to get rid of him, Boston fans might try to make that day an official holiday.
The Cubs' outfield collection of Alfonso Soriano, Milton Bradley and Kosuke Fukudome
Nothing says overpaid and overrated like the Cubs' outfield. Whether you love brutal defense, swing-at-everything offense, or just plain stupidity, the Cubs' outfield collection of Soriano, Bradley and Fukudome have it all. Soriano can't judge fly balls and even when he does, he's always prone to making an error with his unnecessary hop, skip and a jump catch. Bradley has turned out to be one of the worst offseason signings of the year while failing to produce at the dish, fighting with manager Lou Piniella and forgetting how many outs there are in an inning. Fukudome is fine defensively, but his mini-tornado batting approach is almost laughable to watch sometimes. Whenever the trio is in the outfield at the same time, you'd swear you're at the circus instead of the "Friendly Confines."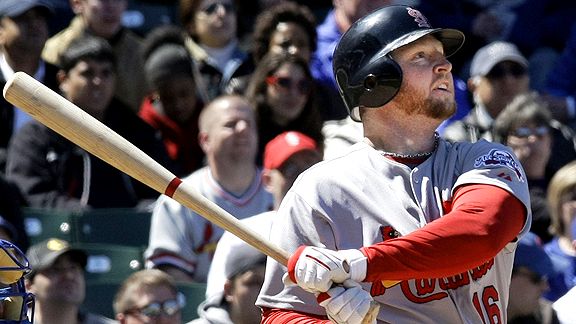 Chris Duncan, OF, Cardinals
Despite currently owning the best record in the NL Central, the Cardinals actually have a couple of players that fans wouldn't mind taking on a tour of the Arch, only to leave them at the top with no way down. Reliever Dennys Reyes is one of those players, Joe Thurston is another, but Duncan takes the cake. Not only is he brutal both offensively and defensively, but he also continues to bat in front of superstar Albert Pujols and not produce. Pitchers give him hittable pitches on a nightly basis knowing that Pujols is behind him, yet the best Duncan can do is produce a sub-.250 batting average and a paltry five home runs. Couple that with his brutal defense and it's amazing that he still has a starting job. (Although he can thank a rash of injuries for that.)
Edgar Renteria, SS, Giants
At least twice this year I read that Renteria was a solid offseason signing for the Giants by two different media outlets. If by solid they meant that the Giants once again overpaid for a free agent, then yes, Renteria was a solid signing. Watching him trying to go to his left on a ball hit up the middle is like watching an insect trying to scramble to get out of water after you flushed it down your toilet. Unless the ball is hit right at him, he can't move and God help the first baseman when he tries to rush a throw. He's still okay with the bat at times, but Bruce Bochy refused to move him out of the two-hole for most of the first half despite Renteria's willingness to suck. At No. 6 or No. 7 in the lineup, he's serviceable. At No. 2, he's maddening.
Melvin Mora, 3B, Orioles
Whether it's at the dish, in the field or on the base paths, Mora seemingly makes a bone-headed play at least once a game. He's 37 years old, his production is almost non-existent and he doesn't have much of a future in Baltimore past next year. Yet he continues to take up space in the middle of the O's lineup because manager Dave Trembley refuses to play youngsters over the vets. It's bad enough that Baltimore fans have to succumb to watching their team lose on a regular basis. But to also make them watch old, crusty vets lose is just downright cruel.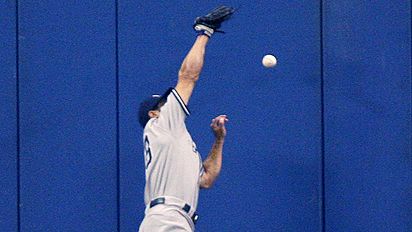 Johnny Damon, OF, Yankees
Don't get it twisted – Damon is a fine offensive player. I have no idea how he can still hit over 12 home runs almost every year despite his age, but he does and he's been a very good offensive player for the Bombers. But his chicken wing has always been an issue and Yankee fans must cringe every time a ball his hit into left field. He used to be able to make up for his little league arm with his speed, but he's definitely lost a step over the years and he has trouble making adjustments on balls hit over his head. The Yankees will take his offensive production, but they'd probably be better off with a scarecrow set up in left field.
Scott Kazmir, SP, Rays
Granted, Kazmir is starting to slowly turn things around since coming off the DL a couple weeks ago. But he's got to be one of the most frustrating supposed-aces in baseball and what's maddening is that he has outstanding stuff. But he can't stay healthy and he's way too inconsistent to be counted on as a top-of-the-rotation pitcher. If he were a No. 3 or No. 4 starter being paid No. 3 or No. 4 money, fans could deal with his ups and downs. But he's Tampa's highest paid pitcher (fourth highest player behind Carl Crawford, Carlos Pena and the equally-frustrating Pat Burrell) and his ERA is almost 7.00 this season.
Magglio Ordonez, OF, Tigers
This is obviously in correlation to this year, because Maggs has been outstanding for the Tigers since he was acquired from Chicago in 2005. He's supposed to be a significant bat in Detroit's lineup, yet he's batting just .266 with four home runs and 28 RBI. Worse yet, he's still collecting a massive paycheck (he's the currently the Tigers' highest paid player) and he's frightening to watch in the outfield. Maybe he'll bounce back and I'll have to eat my words but until then, he has to be driving Detroit fans nuts right now, even with the Tigers in first place.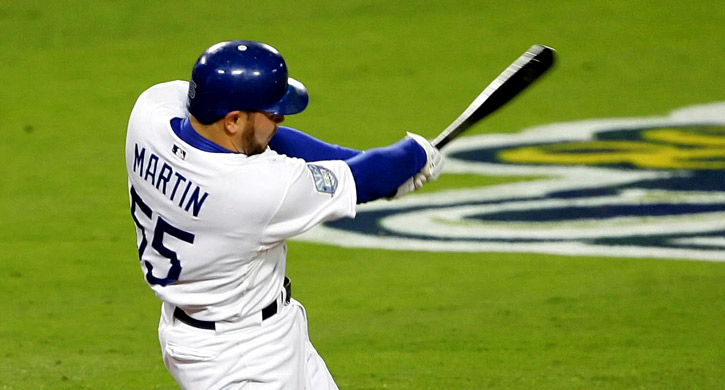 Russell Martin, C, Dodgers
What the frack happened to this kid? Once one of the most promising catchers in all of baseball, Martin is hitting just. 248 this season with one dinger. At 26, he still has a ton of potential and maybe with Manny Ramirez back in the Dodgers' lineup he'll turn it around in the second half. But once a promising player with a decent amount of pop, Martin now he hits like Chone Figgins without the high average.
Bob Howry, RP, Giants
I went to a Giants-Cardinals game in St. Louis recently and wound up making small talk with a Red Bird's fan next to me. The game eventually went into the tenth tied 1-1 and San Fran had two relievers warming up in the pen: Brian Wilson and Bob Howry. I turned to my new Cardinals friend and said, "If Bruce Bochy puts Wilson in we're looking at more baseball. If he puts the black angel of death in, you'll be sucking down a cold one enjoying a Cards' victory in no time." Lo and behold, Bochy put Howry in and against his first batter, he gave up a walk off to St. Louis centerfielder Colby Rasmus. Granted, Pablo Sandoval dropped a pop up in foul territory during the at bat and the umpire squeezed him on a pitch that would have struck Rasmus out, but nobody is better at blowing late inning games than Howry. Cub fans, you know what I'm talking about.
Those are my ten…which players infuriate you the most?
Posted in: MLB
Tags: Albert Pujols, Alfonso Soriano, Anthony Stalter, Bob Howry, Chris Duncan, Edgar Renteria, Johnny Damon, Julio Lugo, Kosuke Fukodome, Magglio Orondez, Melvin Mora, Milton Bradley, Most Frustrating MLB Players, Most infuriating MLB Players to watch, Nick Green, Russell Martin, Scott Kazmir