Piniella apologizes to Bradley for sending him home in middle of game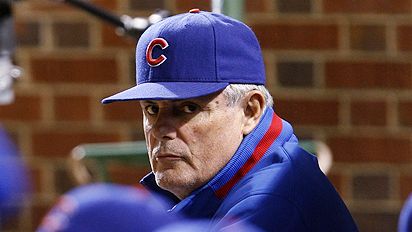 Cubs' manager Lou Piniella officially apologized to tantrum-throwing Milton Bradley, who decided to take out his frustration on a water cooler during a game on Friday night and was absolutely reamed out by his manager.
"I apologized for the last comment I made, told him he knows in the context I meant it," Piniella said. "But I also told him that just can't continue, to have shenanigans that we've put up with. I told him he's going to hurt somebody, he's going to hurt himself."

Piniella ordered the mercurial slugger to go home Friday afternoon after Bradley threw his helmet and went after a water cooler following a fly out in the top of the sixth inning of the Cubs game against the crosstown rival White Sox.

"He didn't really talk to me about it, he just kind of yelled at me in the dugout and told me to get out of there," Bradley said Saturday before he talked with Piniella. "So I left. Then he continued to yell at me some more. I've got to take that."

Bradley confirmed a report in the Chicago Sun-Times describing the expletive Piniella used.

"Yeah, that's exactly what he said," Bradley said. "But I'm not going to get into it."

After going 1 for 5 as the Cubs lost to the White Sox, 8-7, Bradley said he had no problems or issues with Piniella, especially after their meeting before Saturday's game.

"I got a ton of respect for Lou," Bradley said. "When he says something, I really take heed and listen to it, not just the tone or the exact words but the sentiment behind it. I really think he had a heartfelt talk with me in his office, and I think we are both better for it."
While we're handing out apologizes, maybe Bradley should apologize to Lou, his teammates, and Cubs fans for not knowing how many outs there are in an inning and for barely being able to keep his batting average above .235 this season. And maybe Jim Hendry should apologize to the fans for trading Mark DeRosa away in the offseason for a couple of expired White Castle coupons and a $5 gift certificate to Best Buy. (And then promptly signing Bradley to fill the void left by DeRosa.)
The Cubs are a mess right now.