Favre speaks out about comeback, Vikings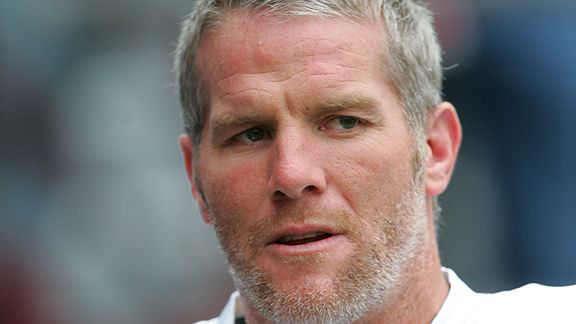 Brett Favre appeared on "Joe Buck Live" on Monday and spoke about his possible comeback, the health of his arm and meeting with the Vikings.
Here are the nuts and bolts of what Favre said in the interview:
"If it ever gets to the point where it feels like it did before it started hurting, then the biggest question mark is out of the way," Favre said.

Favre said Vikings coach Brad Childress wanted him to attend Minnesota's recent organized team activities, but he declined.

"I figured there would be a media frenzy if I was there," he said. "And there would be a media frenzy if I couldn't play, if we had to say three weeks later, 'You know, his arm's just not up to par. He can't play.'

"So why not have just one media frenzy, and that be later on?"

Asked by Buck if he would play this season, Favre replied, "Um … " After a pause, he said, "Maybe."

"I know people are tired of it, really," Favre said earlier of the drama that accompanies his annual waffling over retirement. "My intentions are not to — although it's good for you — create controversy."

"It makes a lot of sense because the pieces are in place," Favre said.

He said he met with a Vikings trainer Sunday to go over some arm exercises as part of his rehab, but the team has not made plans to evaluate his readiness to play. Favre said his conversations with Vikings officials have been infrequent and limited.

"Nothing other than, 'Are you interested?'" he said. "And vice versa."
Favre didn't really say anything new in the interview. We already knew he wants to play for the Vikings and the Vikings only, but can't make a decision until he sees how his arm will react to the surgery. The Vikings want him to play, but are in a holding pattern because of his arm.
So now everyone waits until Favre tests out his arm. And while we wait, the media should have daily reports on which way Favre parts his hair, what kind of pillow he chooses to sleep on and whether or not he prefers grape or strawberry jelly.