Oklahoma City explores its options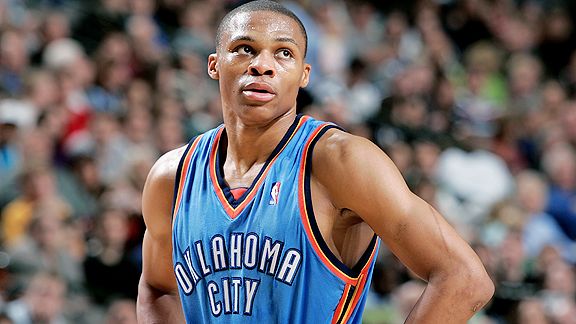 Darnell Mayberry of The Oklahoman had this to say about the current trade winds in the NBA…
With just 10 days remaining until the June 25 NBA Draft, one league source said there has been an unusual silence around the league regarding substantial trade talks. The source said the economy is likely the culprit, with the majority of teams primarily interested in shedding high-dollar contracts.

"Dumping contracts is going to be the principal thing in this draft as far as trades go," the source said. "You're not going to see pick-for-pick (trades). You're going to see pick and bad contract for pick."
Outside of the run of the mill free agents, I think there might be a few big names changing teams this summer, but my bet is that they'll mostly be the second-tier stars with bloated salaries. The playoff teams that are willing to spend won't shy away from adding the salary given that the player may be the missing piece to the championship puzzle.
In another column, Mayberry discusses the importance of different positions in the NBA…
Nine of the 10 teams that finished the season ranked in the top 10 in opponent scoring made the playoffs. The common denominator: all had an interior defender or shot-blocker at the center position. (Nine of the 10 teams that finished at the bottom 10 in opponent scoring missed the playoffs. All but two — Chicago and Phoenix — lacked a difference-maker defensively at center.)

But on the flip side, with its roster under construction, the Thunder isn't in a position to draft for need. Many observers around the league think the Thunder should select the best player available, regardless of position and in spite of Oklahoma City's gaping hole in the middle.

"A lot of teams feel it's way more important to have a Brandon Roy than a center," said the scout. "A guy who can run the high pick-and-roll, get to the free throw line, make plays for others. It's not even close. You're dead in the water if you don't have that guy."
The Thunder pick third, so they're likely looking at Ricky Rubio, Hasheem Thabeet and James Harden. The Rubio/Harden decision comes down to what the team has planned for Russell Westbrook. Is he the point guard of the future (as Chad Ford keeps reporting)? If so, it doesn't make sense to draft Rubio. If they feel that Westbrook is better suited for off guard, then a Rubio/Westbrook backcourt could also be formidable. I'm guessing that the Grizzlies are going to go with Thabeet at #2, so OKC may very well have to make this decision later this month.