The top 10 first round steals of the last 10 years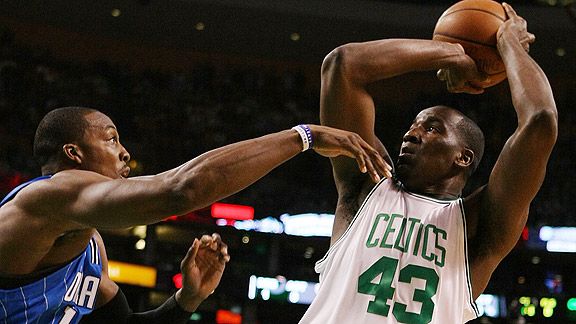 Everyone loves to focus on the lottery, but there are good players to be had in the late first round as well. A while back, I put together a list of the top second round picks of the modern era, so now I'm going to focus on those players that were drafted between pick #21 and pick #30 in the first round. (Note: If a player was drafted in the second round, even if they were taken with the #29 or #30 pick overall, they are ineligible to make the list. Sorry, Gilbert.) Since there are more star-quality players available in the 20's, I'm limiting this list to the last ten drafts (i.e. 1999 through 2008).
It is sometimes tough to rank older players with newer players, but even if a younger player holds more trade value right now, I am going to take into account each player's entire career. For the young guys, I have to project a little bit, so keep that in mind as you read and react. I feel great about the top eight guys, but there are a few players that missed the list that are pretty interchangeable with #9 and #10.
On with the list…
10. Aaron Brooks, Rockets
26th pick in 2007
I had to decide between Brooks and Nate Robinson here and went with Brooks given his fine performance in the playoffs this season (16.8 ppg, 3.4 apg, 42% from 3PT) and how Robinson's numbers are a little inflated playing for Mike D'Antoni. Brooks is not a natural point guard, but his sharpshooting is a good fit given Houston's inside-out attack. He's small, but he's quick and is able to score at the rim when given some daylight. The Rockets feel good enough about Brooks to trade Rafer Alston away midseason, so you have to like his upside.
9. Kendrick Perkins, Celtics
27th pick in 2003 (drafted by the Grizzlies)
In the world of "big" guys, I also considered Boris Diaw here, but it's tough to pass on a 6'10" 24-year-old who averaged 8.5 points, 8.1 rebounds and 2.0 blocks per game on a team loaded with vets. Without Kevin Garnett in the playoffs, the C's needed Perkins to step up his game and he responded with 11.9 points, 11.6 boards and 2.6 blocks per contest. He also did a pretty good job on Dwight Howard, who had his worst numbers of the playoffs against the Celtics.
8. David Lee, Knicks
30th pick in 2005
Isiah Thomas couldn't make a good trade to save his life, but he could spot talent in the draft. Lee has turned out to be a steal with the last pick in the 2005 draft. He's an athletic lefty whose best traits are his hustle and smarts. In just his fourth season, Lee averaged 16.0 points and 11.7 rebounds per game, which made him one of the most consistent double-double guys in the league. His stock is so high right now that the Knicks might be able to use him as trade bait in order to land Chris Bosh or Amare Stoudemire. Maybe they'd be better off sticking with Lee…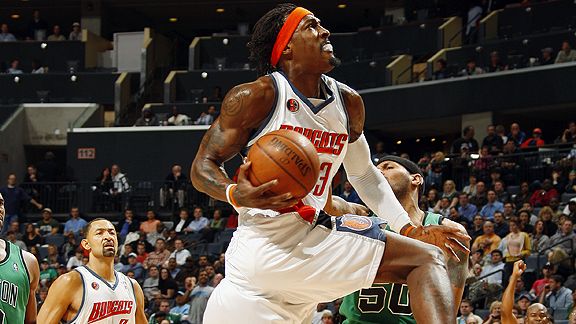 7. Gerald Wallace, Bobcats
25th pick in 2001 (drafted by the Kings)
Even though he plays in Charlotte, Wallace has a reputation for being one of the best perimeter defenders in the league. Throw in the fact that he's a capable scorer (15.9 ppg last season) and you have one of the best all-around small forwards in the league. His jumper is improving (if slowly), but he's at his best when he's using his superior athleticism to attack the rim. If he had landed in a bigger market or for a better team, he wouldn't be playing so far under the radar.
6. Andrei Kirilenko, Jazz
24th pick in 1999
AK-47 was named to just one All-Star game, but has made three All-Defensive teams. Let's not forget that Kirilenko was Utah's leading scorer in the 2002-03 season, the year before the arrival of Carlos Boozer. Then came Deron Williams, and Kirilenko has settled into a more complementary role as a key defender, shotblocker and rebounder. He has had an up-and-down few years in Utah, but the fact remains that he was one of the top picks of the late first round.
5. Tayshaun Prince, Pistons
23rd pick in 2002
At Kentucky, Prince was known more for his offense than he was for his defense. The reverse has been true since he entered the league in 2002. He was named to the All-Defensive 2nd Team four straight times, while averaging better than 13.2 points per game for the last five seasons. His jumper is ugly, but it goes in, as evidenced by his 40% accuracy from long range last season. Simply stated, he is one of the most productive "glue guys" in the league and he was instrumental in the Pistons' solid run over the last seven years.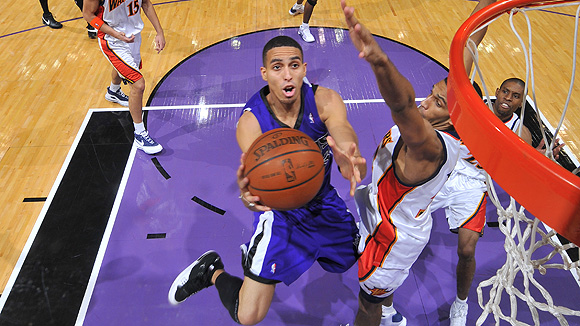 4. Kevin Martin, Kings
26th pick in 2004
Here's a guy that has made himself into one of the best scorers in the league. He has always possessed great quickness, but has gone from shooting 20% behind the arc in his rookie season to just over 41% last season. He can score in a multitude of ways and was second in the league in free throws attempted with 10.3 per game (behind Dwight Howard and ahead of Dwyane Wade). Moreover, he's just 26, so he has room to grow.
3. Josh Howard, Mavericks
29th pick in 2003
Sure, he's kind of a knucklehead, but there's no doubt that Howard has game. He slipped in the draft because of an apparent lack of upside. When he came out of college, he wasn't a superb athlete and wasn't great at any one thing, but he was a very good all-around player, which is why he won the ACC Player of the Year in his senior season at Wake Forest. In the NBA, he has steadily improved his offensive repertoire and has a reputation for being one of the better defensive small forwards in the league. He was named to the All-Star game in 2007 and is often used as evidence that it's not always smart to pass on a proven college upperclassman for perceived upside.
2. Rajon Rondo, Celtics
21st pick in 2006 (drafted by the Suns)
Rondo slipped in the '06 draft due to concerns about his non-existent jumper. As a second-year player, he successfully molded his game to fit with veterans Paul Pierce, Kevin Garnett and Ray Allen to help lead the Celtics to a title in 2008. He was named to the All-Defensive team in 2009, and when Garnett went out with a knee injury late in the year, Rondo turned it on come playoff time. In the first round against the Bulls, he averaged a stellar 19.4 points, 11.6 assists and 9.3 rebounds, including two triple-doubles. Due to his work ethic, energy and the tutelage of Doc Rivers, he's quickly becoming one of the best young point guards in the game. But can he keep this career trajectory once the Big Three start departing and defenses can afford to pay more attention to him?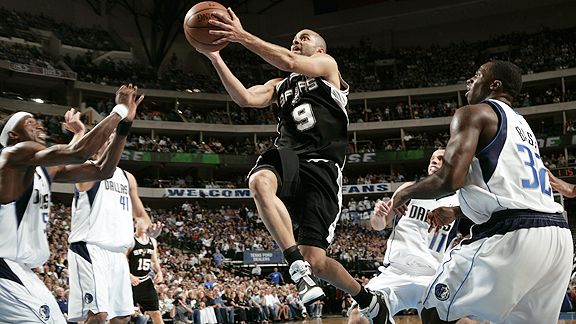 1. Tony Parker, Spurs
28th pick in 2001
Parker is just 27 and already has had an illustrious career. He has been named to three All-Star games, and was the Finals MVP in 2007 when it became apparent that the Cavs didn't have a guy that could stay in front of him. In fact, there are very few players in the league who can effectively defend Parker, who is one of the very best at getting to the rim in transition and off the pick and roll. He has helped the Spurs win three titles, and it has been interesting to see his transformation from a 19 year-old rookie to wily veteran over the past eight seasons. It will be even more interesting to see how he adjusts to being "The Guy" as Tim Duncan gets older and less productive. Parker went late in the first round because he was a foreigner (remember, international scouting was not as sharp in 2001) and because he was/is short and slight. But he really benefited from the rules changes that reduced hand checking on the perimeter and has flourished since he joined the league.
Honorable Mention: Nate Robinson, Boris Diaw, Delonte West, Rudy Fernandez, Morris Peterson, Samuel Dalembert, Leandro Barbosa, Courtney Lee, Jarrett Jack, Kenny Thomas, John Salmons, Jordan Farmar, George Hill, Linas Kleiza and Beno Udrih.
What can we draw from this list?
1. There are four small forwards — Howard, Kirilenko, Wallace and Prince — that are all known more for their defense than their offense, and Howard and Prince both scored in the high teens in college.
2. There are three point guards on the list. Two were deemed too small (Parker and Brooks) and the other couldn't shoot (Rondo).
3. There is a power forward (Lee) and an off guard (Martin) who are known for their tremendous work ethics. Lee is a big-time hustler on the court and Martin is a gym rat who has transformed himself into one of the best scorers in the league.
4. There's a 6'10" center (Perkins) who came to the NBA straight out of high school. It's especially tough to find a good big late in the first round, as anyone with size and talent is usually long gone by now. Check out this list of 6'10" or taller players that were drafted in the late first round over the last 10 years: Pavel Podkolzine, Iakovos Tsakalidis, Kosta Koufos, Dalibor Bagaric, Primoz Brezec, Johan Petro, Mamadou NDiaye, Tiago Splitter, David Harrison, Samuel Dalembert, Jeff Foster, Nenad Krstic, Ryan Anderson, Josh Boone, Brian Cook, Serge Ibaka, Ian Mahinmi, Donte Greene, Leon Smith and Joel Freeland. While there are a few contributors on that list, the vast majority ride the bench or aren't even in the league.
The lesson? Go small. Look for a player with an impressive work ethic. Try to find someone that has the physical tools to play good defense or a point guard that is too quick to be covered. These are the types of players that seemed flawed, but have the potential to develop into first round steals.
Tags: 2009 NBA Draft, Aaron Brooks, Andrei Kirilenko, Beno Udrih, Boris Diaw, Courtney Lee, David Lee, Delonte West, George Hill, Gerald Wallace, Jarrett Jack, John Salmons, Jordan Farmar, Josh Howard, Kendrick Perkins, Kenny Thomas, Kevin Martin, Leandro Barbosa, Linas Kleiza, Morris Peterson, Nate Robinson, NBA Draft, Rajon Rondo, Rudy Fernandez, Samuel Dalembert, Tayshaun Prince, Tony Parker