Report: Vikings give Favre ultimatum and deadline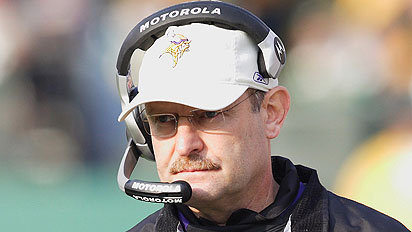 According to a report by ESPN.com, the Vikings want a decision from Brett Favre on whether or not he wants to play for them sometime this week.
This is a smart move by the Vikings. They know Favre is the king of waffling and they can't continue to wait on him and keep current quarterbacks Sage Rosenfels and Tarvaris Jackson in limbo. The season is still months away, but OTAs wrap up this week and training camp will begin in about a month so they need a decision.
But this hardly seems realistic. According to the ESPN article, Favre has done some light throwing following recent surgery to repair a tear in the biceps of his throwing arm, but he doesn't feel confident enough yet to definitively say that he's coming back. And if Favre doesn't believe he's at full strength, why would the Vikings rush a decision from him?
If Favre believes he'll be healthy in two to three weeks and the Vikings truly want him, then they should allow him that time and then hold a workout. If he's ready to go, then they can sign him in time for training camp. If he doesn't feel that his arm is 100%, then they can move on without him and go with Rosenfels or Jackson. But even after all of this will-he-or-won't-he-come-back discussion that has been drummed up over the past couple weeks, the Vikings giving him a deadline of this week still seems a little premature.
Then again, Favre can't be trusted when it comes to making a firm decision, so I don't blame Minnesota for giving him an ultimatum with a deadline. The Vikings have an entire team to think about – not just a decision about whether or not to sign Favre.
I just don't know if a couple of days is a long enough for Favre to know whether or not he's completely healthy. I can certainly understand the Vikings wanting to put pressure on him to make a decision if he were healthy, but it's out of his hands whether or not his arm will be completely ready by the end of the Vikings' supposed deadline.
It'll be interesting to see if the Vikings hold him to this deadline and more importantly, whether or not they'll officially move on if he tells them he still needs more time.