Will tonight be the night the Big Unit wins No. 300?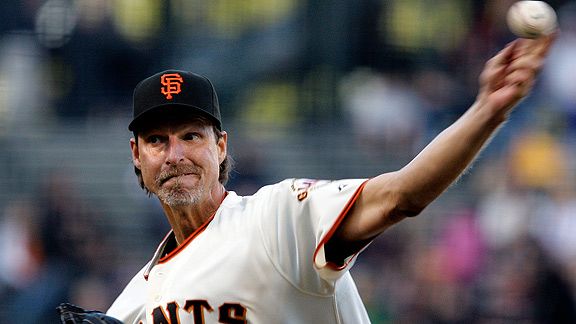 Randy Johnson will go for career win No. 300 when the Giants take on the Nationals tonight at 7:05 p.m. ET. Johnson hasn't won back-to-back starts all season and he's coming off a win over the Braves on May 27.
Some believe the Big Unit is a shoe-in to win No. 300 tonight because he's taking on a Washington team that's just 14-36 on the year and lost six straight before beating San Fran 10-6 last night. But the Nats have scored the 12th most runs in baseball and are ninth in home runs, which Johnson has served plenty of this season (10 in 10 starts to be exact).
Johnson's performance so far this season matches his stats line, which is to say he has been very average. He's currently 4-4 with a 5.71 ERA and while he's pitched well his last two outings, he also hasn't reached the seventh inning in eight of his 10 starts. He simply runs out of gas when the game reaches the fifth and sixth inning, which means the Giants bullpen has often been the deciding factor in whether or not the Big Unit is victorious.
I don't want to piss on his parade, but I don't see Johnson winning tonight. Jordan Zimmerman is throwing for the Nats and the Giants don't have a good enough offense to jump out to a big lead early and allow the Big Unit to cruise. As much as I would love to watch history tonight, I've got a gut feeling Johnson will be stuck at 299 by the end of the night.
Still, the Giants are always in tight ball games, so it would be cool to see Johnson throw six strong innings and then watch as the bullpen tries to preserve the victory for him. As much as SF closer Brian Wilson gets jacked for games, it would also be sweet to see him have to come in for a save in ninth with Johnson's No. 300 hanging in the balance.