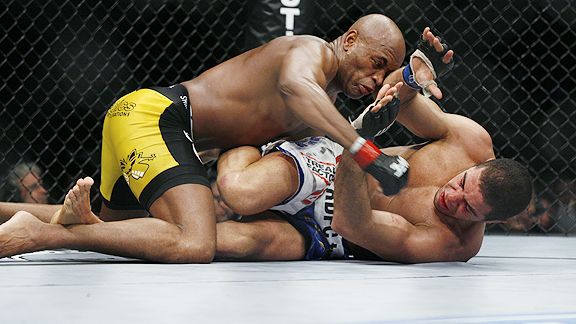 Here's a weekly rundown of MMA content from Ben Goldstein of CagePotato.com:
– Last weekend's MMA action was highlighted by Bobby Lashley choking out Mike Cook in 24 seconds and a Bellator event jam-packed with wild fights.
– Good news: PRIDE legend Mirko Cro Cop is returning to the UFC. Bad news: He's back at the bottom of the heavyweight ladder.
– Andrei Arlovski will be tangling with undefeated prospect Brett Rogers at Strikeforce's stacked-to-death June 6th card. Rogers was originally supposed to face Alistair Overeem, but Overeem injured his hand while putting five nightclub bouncers in the hospital.
– Wednesday's episode of The Ultimate Fighter was plagued by staph infections, bronchitis, and an inconvenient gag-reflex.
– Must-see videos: Brock Lesnar and Anderson Silva made us laugh Spencer Pratt made us cry, and BJ Penn cried wee wee wee all the way home.
– After countless delays, Fedor Emelianenko and Josh Barnett are slated to face each other this summer, at what will probably be Affliction's last MMA event.
– Former baseball star/steroid snitch Jose Canseco is having his MMA debut in Japan on Tuesday against 7'2″ kickboxer Hong Man Choi. His preparation is, shall we say, lacking.
– Swing by CagePotato.com tomorrow night starting at 10 p.m. ET / 7 p.m. PT as we liveblog UFC 98: Evans vs. Machida, which will feature the UFC's best title fight in nearly a year. You can see more analysis of the fight card here and here.
Posted in: Mixed Martial Arts
Tags: Alistair Overem, Anderson Silva, Andrei Arlovski, B.J. Penn, Bobby Lashley, Brett Rogers, Brock Lesnar, Evans vs. Machida, Fedor Emelianenko, Jose Canseco, Jose Canseco MMA, Josh Barnett, Mike Cook, Mirko Cro Cop, MMA, MMA News, MMA rumors, Spencer Pratt, The Ultimate Fighter, UFC, UFC rumors