Report: Manny's drug test flagged for elevated testosterone, not hCG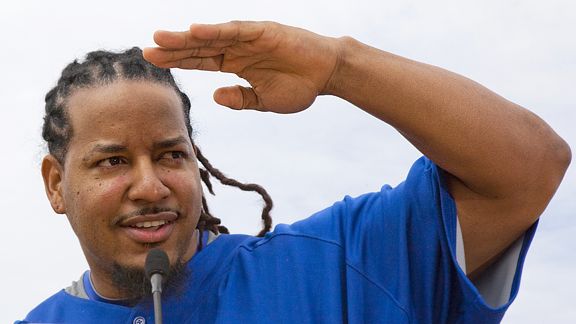 According to a report by the Los Angeles Times, Manny Ramirez's drug test was flagged by MLB for elevated levels of synthetic testosterone, not hCG as was initially believed.
The newspaper reported that no trace of hCG, the banned substance for which the Los Angeles Dodgers outfielder was suspended, was found in his system at the time of the drug test, according to three sources with specific knowledge of the test. But according to one source with knowledge of the test, it was was flagged for having a synthetic testosterone level four times the amount of the average male.

Baseball officials had begun the disciplinary process for the drug test when they obtained Ramirez's medical records and learned he had a prescription for hCG, which is commonly prescribed for women as a fertility drug and is a banned substance in baseball's drug program. At that point, Ramirez was suspended for "just cause," based on the prescription and the fact he had not sought an exemption for it, and Ramirez dropped his appeals and took the suspension, according to the report.

Before the prescription came to light, Ramirez was expected to argue on appeal that the elevated testosterone level was caused by DHEA, according to authorities familiar with MLB's testing procedure, the Times reported.

The World Anti-Doping Agency considers DHEA a steroid and has banned its use, but it is not a banned substance under baseball's drug policy. DHEA is produced by the adrenal gland and serves as a precursor to male and female sex hormones.

The Times reported that according to those same authorities, Ramirez's test would not have been declared a positive if it were known that DHEA had caused the spike in his testosterone-epitestosterone (T-E) ratio.

But one of the three sources with information about the test results said baseball had three "powerful analytic foundations" to say the positive drug test was not caused by DHEA, according to the Times.
I realize this is just a report. Nothing has been confirmed and nothing probably will be confirmed by Manny or MLB. However, this is pretty damning evidence for Ramirez.
Let's sum this up, shall we?
Manny is told that he will be suspended for a positive PED test. He plans to appeal the suspension on the basis that his positive test was the cause of DHEA, which he knows isn't on baseball's banned list. But when he found out that MLB had evidence that the positive drug test was not caused by DHEA, he backed down.
Furthermore, he had elevated testosterone levels four times the amount of the average male. Four…times. And oh-by-the-way, he also had a prescription filled out for hCG, which is a drug known to help restore testosterone levels for those coming off steroid cycles.
This guy was (allegedly) juicing! He was (allegedly) on the juice! He (allegedly) got caught with steroids!
Again, this is just a report so we cannot take it as complete truth, especially when there are unnamed sources involved. But this could possibly be the smoking gun that was begging to come out as soon as the suspension was handed down.
Posted in: MLB
Tags: Manny Ramirez, Manny Ramirez 50 game suspension, Manny Ramirez failed drug test, Manny Ramirez HCG, Manny Ramirez positive test, Manny Ramirez sexual enhancer, Manny Ramirez steroids, Manny Ramirez suspended, Manny Ramirez suspended 50 games, Manny Ramirez suspension, Manny Ramirez tests positive, Manny Ramirez tests positive for performance-enhancing, Manny Ramirez used sexual enhancer, MLB suspends Manny Ramirez