Dolphins bring back Jason Taylor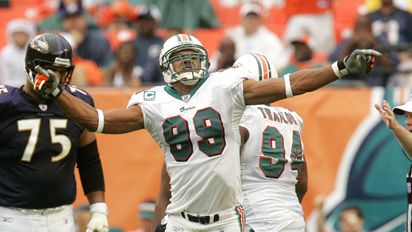 Free agent defensive end Jason Taylor signed a one-year, $1.1 million contact to re-join the Dolphins. The deal also includes a $400,000 signing bonus.
The deal is a good one for Miami, as Taylor will earn just $1.1 million in base salary, with incentives that could bring him another $400,000. He had been contracted to earn more than $8 million with Washington this season.

Rumors have linked Taylor to Miami since he was let go by Washington earlier this year, but the Dolphins seemed to be unwilling to go that route as they attempted to build their roster through the draft and younger free agents.

But coach Tony Sparano told Joe Rose on 560-AM on Tuesday that, with the draft complete and still lingering needs on defense, the front office would be taking another look at the Taylor situation this week.

"My heart has always been in Miami," Taylor said in a statement. "I'm truly motivated to call myself a Dolphin again.
This is just another example of Bill Parcells getting the best of a situation. Taylor pissed Parcells off last year when he skipped the Dolphins' voluntary off-season workouts and stated how he wanted out of Miami. So Parcells found a dope in Daniel Snyder and shipped Taylor to Washington for a second round pick in 2009 and a sixth round pick in 2010. And look how everything turned out – Taylor is back in Miami at a drastically discounted price, the Dolphins drafted Pat White with that second round pick, they still have the sixth rounder in their back pocket for next year and the Redskins are left with nothing.
Parcells wins again.