2009 college football spring predictions: Florida No. 1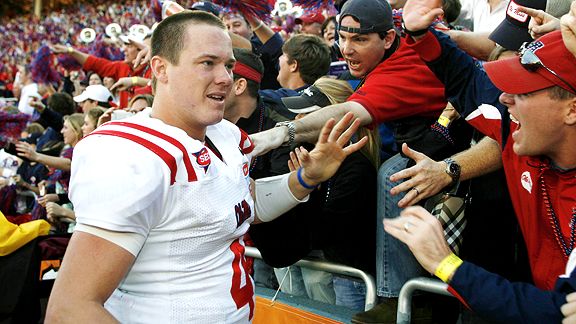 As spring practices wrap up across the country, Andy Staples of SI.com ranked the top 25 college football teams entering the 2009 season. You can see Staples' rankings by clicking the link above.
I'm intrigued by a couple of teams on his top 25, most notably Ole' Miss (No. 7), Ohio State (No. 9) and TCU (No. 11).
Ole' Miss is going to give a lot of SEC teams trouble this year with 16 total starters (8 on offense, 8 on defense) returning from last year, including quarterback Jevan Snead, who enters his second full season as a starter after throwing 26 touchdowns last season. They lost key components in offensive tackle Michael Oher and defensive tackle Peria Jerry, but they essentially return the same team that beat Florida, LSU and stomped Texas Tech in the Cotton Bowl last year. (Not to mention also gave Alabama a game in Tuscaloosa.)
Out of the teams Staples ranks in his top 10, Ohio State has the fewest returning starters at nine. But quarterback Terrelle Pryor will only continue to improve with more playing time and running back Dan "Boom" Herron will ease the loss of Beanie Wells to the NFL. The Buckeyes should also have one of the best defensive fronts in the Big Ten, with end Lawrence Wilson and tackle Cameron Heyward set to return.
TCU turned a lot of heads last year after compiling an 11-2 record, including impressive wins over BYU and Boise State in the Poinsettia Bowl. They had one of the fastest defenses in the nation last year and they held opponents to a staggering 11.3 points per game. But they lost seven starters on the defensive side of the ball, which was obviously their strength, so it'll be interesting to see how they'll stack up with Utah again in the Mountain West.
Another team to keep an eye on is Oregon State, who returns two explosive playmakers in running back Jacquizz Rodgers and wide receiver James Rodgers. But as Staples writes in his top 25 rankings, quarterback Lyle Moevano is coming off offseason shoulder surgery and will battle senior Sean Canfield in preseason practice.
Posted in: College Football
Tags: Cameron Heyward, Dan "Boom" Herron, Florida Gators, Jacquizz Rodgers, James Rodgers, Jevan Snead, Lawrence Wilson, Lyle Moevano, Michael Oher, Ohio State Buckeyes, Ole Miss Rebels, Oregon State Beavers, Peria Jerry, TCU Horned Frogs, Terrelle Pryor