Five Deep Sleeper Teams for the '09 MLB Season
I know this guy (I'll stop short of calling him a friend but wouldn't hesitate to pick up the phone if he called) that at the start of all the major sporting seasons will throw out his list of "sleeper teams" to watch out for.
What's funny about this guy is that he knows if he's wrong he'll never be called out because hey, they were just sleeper teams anyways right? But if he's right, well hell, he'll look like some kind of sports sleeper team Nostradamus.
This is the same guy that'll pick a No. 16 seed to beat a No. 1 every year in the March Madness Tournament, so on the rare chance it happens he'll have the opportunity to say that he called the upset of a lifetime. The funny thing is that he would have been wrong the previous 34 years of predicting 16's over 1's, but that would be beside the point.
Anyway, this piece is dedicated to him – the "Sleeper Team Guy." For fans, there's nothing like predicting a perennial loser (i.e. the 2008 Tampa Bay Rays) to rise from the ashes and make a postseason run no matter what sport it is. And with Opening Day right around the corner, I think it's a perfect time to hand out some potential sleeper candidates of my own.
Below are five deep sleepers to make a postseason run this year in baseball. Most pundits assume that none of the five will finish better than third in their respective divisions, which is why I can get away with calling these teams "deep sleepers." If any of them make the playoffs, I'll wax poetically about it in my sleeper teams piece next year. If none even sniff a postseason berth, then in honor of "Sleeper Team Guy" don't expect me to admit I was wrong. Yeah, that's right – accountability is for losers.
1. Florida Marlins
What to Love: I'll be completely honest – I want to make sweet, sweet love to this team. I want to take them out to a nice Mexican dinner, treat them to some fried ice cream and then take them back to my place so I can show them my rare collection of Roy Orbison collectable plates and hopefully top off the night by making some bad decisions. Hanley Ramirez, Cameron Maybin, Jorge Cantu, Dan Uggla and Gaby Sanchez comprise one of the most promising lineups in all of baseball and the young rotation of Ricky Nolasco (thanks to regular reader "T-Bone" for pointing out that I had somehow forgot Nolasco originally), Josh Johnson, Chris Volstad, Andrew Miller and Anibel Sanchez screams of potential as well. This club will be fun to watch this year and its youthful ignorance could carry them all season.
What to Hate: Young teams like the Marlins have a tendency to explode out of the gates, only to run out of gas after the All-Star Break. Their inexperience will come into play at some point this season, whether it's at the start, end or throughout. The Fish also play in the toughest division in the NL, which features the defending World Series champion Phillies, the stacked Mets and the veteran infested Braves. But the bottom line is that Florida finished a mere 5.5 games back in the Wild Card race last year and should only be better this season.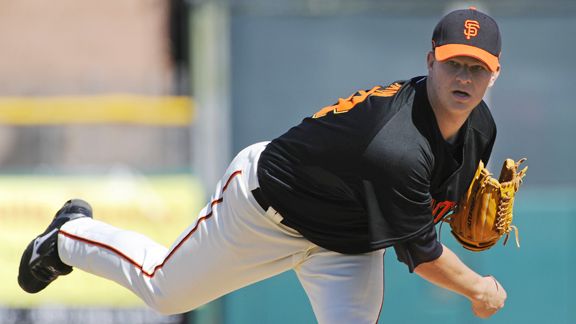 2. San Francisco Giants
What to Love: Take a look at the starting pitching and tell me your Mickey Mouse watch doesn't go from 6:00 to midnight. 2008 Cy Young winner Tim Lincecum is a freak and anyone waiting for him to suffer a sophomore slump needs to get a grip; "The Franchise" is the real deal. Believe it or not, No. 2 Matt Cain has just as much potential as Lincecum, but his record is always brutal because the Giants never give him any run support. Randy Johnson might be 89 years old, but he was a solid offseason addition to a rotation that also features a young, emerging arm in Jonathan Sanchez. Ironically, Barry Zito is the worst of the group, but even he could turn in a decent year now that he's a No. 4. Position players-wise, Pablo Sandoval, Travis Ishikawa and Emmanuel Burriss are having solid springs and if they can produce, they'll add to a lineup that features steady bats like Bengie Molina, Randy Winn and Aaron Rowand, who should be better now that his rib injury has healed.
What to Hate: Even though players like free agent acquisition Edgar Renteria should help, the lineup looks pitiful on paper. The starting pitching is solid, but the G-Men ranked second to last in runs scored last year and will rely mostly on unproven players again this season. This club better hope that Sandoval, Ishikawa, Fred Lewis and Kevin Frandsen produce this year or else the starters will have to pitch shutouts all season.
3. Texas Rangers
What to Love: There's no doubt about it – the Rangers will score runs again this year. Ian Kinsler hit .319 with 18 dingers, 71 RBI and even swiped 26 bases last year. He's entering his prime and at only 26, Texas can probably count on solid production from him for years to come. Josh Hamilton, who was easily the best story in baseball last year, will once again join Kinsler in the lineup. Hamilton hit .304 with 32 home runs and 130 RBI and will be the centerpiece of the Rangers' offense again this season. Toss in quality bats like Michael Young, Hank Blalock and emerging youngster Chris Davis and the Rangers' lineup is stacked.
What to Hate: The starting lineup makes you want to jump for joy but the starting pitching makes you feel like you're hooked up to one of those diabolical contraptions in the "Saw" movies. None of the top four starters – Kevin Millwood, Vincente Padilla, Matt Harrison and Brandon McCarthy – had an ERA lower than 4.74 last year and Millwood even posted a 5.07 mark as the supposed ace. Unless young prospects Derek Holland and Neftali Feliz get the opportunity to shine (which is doubtful because the club doesn't want to rush them), then the Rangers will once again have one of the worst pitching staffs in all of baseball.
4. Cincinnati Reds
What to Love: The Reds have quietly amassed one of the better young lineups in the National League. The headliners are Brandon Phillips, Joey Votto and Jay Bruce, but the offseason addition of Willy Taveras was key and hopefully he can team with Jerry Hairston Jr. to form a decent 1-2 punch at the top of the order. Edwin Encarnacion is also a possible breakout candidate and this club has a couple of nice young pitchers in Edinson Volquez, Homer Bailey and Johnny Cueto. (Assuming Dusty Baker doesn't ruin their arms, that is.)
What to Hate: The Reds are kind of a poor man's Marlins when it comes to young sleeper teams. I want to get in bed with the Marlins and share my deepest feelings. I want to get in bed with the Reds too, but I want to make sure they know that I have a big day the next day and therefore it would be best if they left after we were done so I can get some sleep. Cincy doesn't have the talent that Florida does and unless they get breakout performances from a slew of players, than the Reds will likely sink to the bottom of the NL Central once again this year.
5. Kansas City Royals
What to Love: The addition of Coco Crisp and Mike Jacobs to a lineup that already features Jose Guillen and breakout candidate Billy Butler was solid. The offense is above average and the top of the rotation is pretty good with Gil Meche (14-11, 3.98 ERA) and Zach Greinke (13-10, 3.47 ERA) leading the way. The No. 3 spot in the rotation belongs to youngster Kyle Davies, who hasn't allowed a run yet in spring training. KC also plays in a division of uncertainty, with the Indians, Tigers, White Sox and Twins all entering 2009 with plenty of question marks.
What to Hate: The offense is good, but it's probably only above average at this point. The lack of stars on this club is staggering and for as good as the starting three could be in the rotation, the Royals don't have a No. 4 or No. 5 at this point. The AL Central isn't a powerhouse, but the division still features a ton of talent and two teams in the Tribe and Tigers that could bounce back in a major way after disastrous '08 campaigns.
Posted in: MLB
Tags: 2009 MLB Predictions, 2009 MLB Preview, Aaron Rowand, Anthony Stalter, Bengie Molina, Brandon McCarthy, Cameron Maybin, Chris Davis, Cincinnati Reds, Coco Crisp, Dan Uggla, Dusty Baker, Edgar Renteria, Edinson Volquez, Edwin Encarnacion, Florida Marlins, Fred Lewis, Gaby Sanchez, Gil Meche, Hank Blalock, Hanley Ramirez, Homer Bailey, Ian Kinsler, Joey Votto, Johnny Cueto, Jorge Cantu, Jose Guillen, Josh Hamilton, Josh Johnson, Kansas City Royals, Kevin Frandsen, Matt Cain, Matt Harrison, Michael Young, Mike Jacobs, Pablo Sandoval, Randy Johnson, Randy Winn, San Francisco Giants, Sleeper Baseball Teams in 2009, Texas Rangers, Tim Lincecum, Travis Ishikawa, Vincente Padilla, Willy Taveras, Zach Greinke