2009 MLB Preview: #9 Cleveland Indians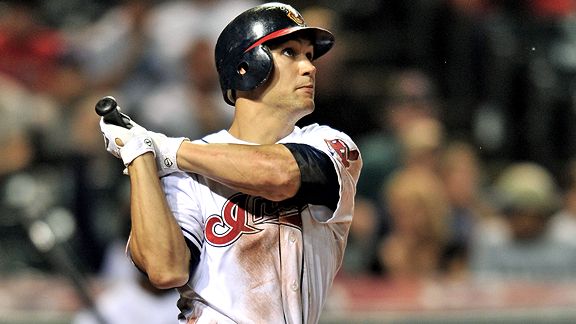 Click Here to see Previews of all 30 MLB Teams
Offseason Movement: The Indians traded for the do-it-all Mark DeRosa (formerly of the Cubs) and also added pitchers Kerry Wood, Carl Pavano and Matt Herges. Wood will be the closer and although he's been pounded thus far in spring training, it would appear that Pavano will have a spot in the starting rotation.
Top Prospect: Matt LaPorta, OF/1B
Carlos Santana (not that Carlos Santana) definitely deserves mention here because he absolutely raked minor league pitching last year and has a ton of power potential at the catcher position. But all eyes will be on LaPorta after the Tribe acquired him last summer as part of the deal that sent CC Sabathia to Milwaukee. Some are down on his potential because he struggled in Double-A and the Venezuelan Winter League last year. But LaPorta still remains one of the best prospects in baseball and should be Cleveland's long-term answer at either first base or in the outfield.
The Big Question: Can this club stay healthy?
Cleanup hitter Travis Hafner was limited to just 57 games last year due to a shoulder injury and thus far in spring training, he's 3 for 15 with only one extra base hit. Catcher Victor Martinez was also severely limited last year because of an elbow injury and promising starter Fausto Carmona spent some time on the DL with a bad hip. The collection of injuries sunk Cleveland last year and unfortunately there is no guarantee it won't happen again. The good news is that the Tribe appears to be healthy so far in spring training and outside of Pronk's struggles at the plate, the club looks bound for a bounce back season.
Outlook: Cleveland's lineup (when healthy) is absolutely solid and it all starts with CF Grady Sizemore. The 27-year old is entering the prime of his career and as long as the groin injury he suffered this spring doesn't slow him down (which it shouldn't), he's bound for another 30-plus home runs, 100-plus runs and 90-plus RBI season. The Tribe added ultra-utility man Mark DeRosa this offseason, who is coming off a career year after hitting .285 with 21 dingers, 87 RBI and 103 runs scored. Sizemore and DeRosa will set the table for Victor Martinez and Travis Hafner, who, when healthy, can absolutely rake. The starting pitching doesn't come without its question marks. Can Cliff Lee dominate like he did last year (or come close)? Did Fausto Carmona just go through a sophomore slump last year or was his amazing 2007 season a fluke? Is Carl Pavano just shaking off rust or is his awful spring a sign of bad outings to come? Outside of not having CC Sabathia pitch every five days, the good news is that everything seems to be in place for the Tribe to rebound this season. But the core has to stay healthy and the top of the rotation has to produce. They certainly have the talent to win the AL Central this year with the Tigers, Twins and White Sox all battling their own uncertainties. But health is the key.
Projection: 1st AL Central
Posted in: MLB
Tags: 2009 MLB Predictions, 2009 MLB Preview, 2009 MLB Projections, 2009 MLB Team Previews, AL Central Predictions, Carl Pavano, Carlos Santana, CC Sabathia, Cliff Lee, Fausto Carmona, Grady Sizemore, Kerry Wood, Mark DeRosa, Matt Herges, Matt LaPorta, MLB Preview 2009, MLB Season Predictions, Travis Hafner, Victor Martinez