Ty Lawson's big toe is a big problem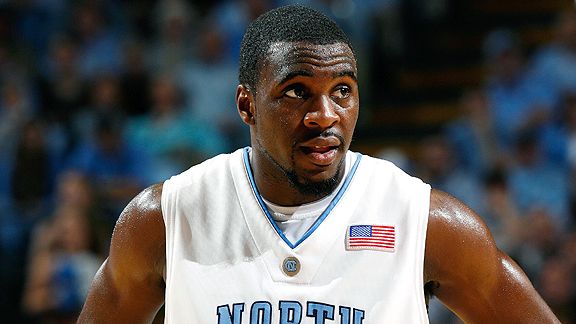 North Carolina is supposed to march to the Final Four, but they're going to have a tough time if they're without ACC Player of the Year Ty Lawson.
Coach Roy Williams says the Atlantic Coast Conference player of the year must practice Tuesday and Wednesday in order to play in Thursday's NCAA matchup against Radford. Lawson has been hobbled since injuring his right big toe before the regular-season finale against Duke, an injury that sidelined him at last weekend's ACC tournament.

Williams says Lawson's recovery is going slower than he had expected. Lawson said at the ACC tournament that he was feeling better after several days of rest.
The good news is that the Tar Heels play their first two games in Greensboro, which is only about an hour away from campus. Lawson doesn't have to travel, which can take its toll on a player's health.
"Williams says Lawson's recovery is going slower than he had expected."
Boy, it's a bad sign when the words "recovery" and "slower" appear in the same sentence. Even if he can play, there's a substantial risk of re-injury. North Carolina can't win a title without him. And if he's not practicing now, and it doesn't look like he's going to be ready to go tomorrow, I highly doubt that he's going to get to that 90-95% threshold required to get the Tar Heels over the hump.
In my annual bracket column, I had North Carolina going through to the Final Four because all (or was it most?) of the signs pointed to Lawson being ready to go. If he's hobbled, I don't think North Carolina gets past Gonzaga in the Sweet Sixteen.
It looks like I have to go change my picks…