Four observations about the East Region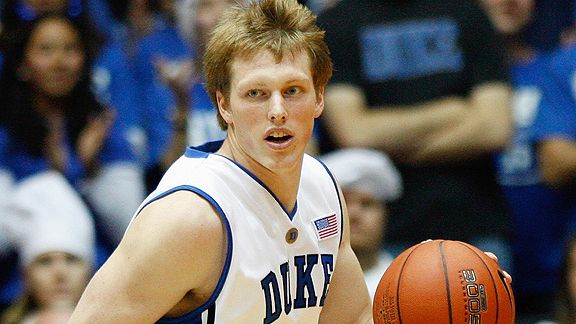 1. Duke is better, but they're still not good enough.
Truth be told, Duke is my favorite team and has been since the days of Johnny Dawkins. But they haven't had a legit post presence since Carlos Boozer and Coach K has hitched his wagon to the three-ball. The Blue Devils are looking a lot better now that they inserted Elliot Williams into the starting lineup. And now that Nolan Smith is back from missing some time with a concussion, Duke can throw an athletic, perimeter-oriented lineup at their opponent. If Gerald Henderson, Kyle Singler and Jon Scheyer (who is playing great now that he's running the point) are all on their games, the Blue Devils are tough to beat, but if they run into Pittsburgh in the regional final, they might be in trouble. The only time Pitt loses is when DeJuan Blair gets into foul trouble — he averaged 4.8 fouls in Pitt's four losses — and Duke just doesn't have the post presence to challenge him down low. The Blue Devils might have to run Singler at center and hope that he can get a couple of cheap ones on Blair early in the game. And Duke will be challenged before then — Texas and the potential UCLA/Villanova winner are more than capable of sending the Blue Devils home early.

2. The Florida State/Wisconsin matchup is a clash of styles.
I'm not sure what to make of the Seminoles. They flew under the radar all season before upending a Ty Lawson-less North Carolina in the ACC tourney semis. Then looked as if they were asleep for much of the first half of the championship game against Duke. How will they react to flying to Boise to play the Badgers, who love to grind the game to a halt and play tough, fundamental defense? This one might come down to the officials. If they let the two teams play, that should work in Wisconsin's favor, as they're used to the physical Big 10 style. But if they call it tight, the Seminoles should be able to get into the lane whenever they want.
3. Good luck beating Villanova in Philly.
Of all the top seeds, the Wildcats are the only team that is actually playing the first two rounds in their hometown. (Okay, nitpickers, Villanova is actually located in Radnor Township, a Philadelphia suburb. Big difference.) If they can get by American University in the opening round, they should have a sizable home court advantage against potential second round opponent UCLA, who is going to have a tough time getting its frontrunning fans (yeah, I said it) to travel cross country.
4. Pitt has what it takes, except tournament experience.
The Panthers have three great weapons at their disposal. Senior point guard LeVance Fields dishes out 7.6 assists per game and can score when he has to, senior swingman Sam Young is averaging 18.7 points and 6.1 rebounds per game, and sophomore big man DeJuan Blair is a double-double machine. But in their last three tournament appearances, the Panthers haven't advanced past the Elite Eight, losing in the Sweet Sixteen twice. Now that his team has a #1 seed, can Jamie Dixon get Pittsburgh over the hump and into the Final Four? I'm betting my bracket on it.