2009 Fantasy Baseball Preview: Relief Pitchers
All 2009 Fantasy Articles | 2009 Position Rankings
There are two general schools of thought when it comes to selecting relief pitchers. Some owners zero in on a stud and are willing to select one in the first couple rounds, while others don't mind cruising the wavier wire on a regular basis during the season after they waited to address the position late in their draft.
Neither approach is bad, although each has its drawbacks. K-Rod racked up 62 saves last season, but switching clubs and leagues this year leads to some uncertainty, plus outside of saves, his ERA and WHIP numbers have been on the decline for years. If you're the type that burns a high draft pick on a top reliever and a guy like K-Rod fizzles, you obviously would have cost yourself an opportunity to select a position player that could have given you great value at that spot.
Conversely, if you wait until the later rounds of your draft to address your stopper(s), then you run the risk of playing Russian Roulette with the position throughout the regular season, possibly costing you wins/points in not only saves, but strikeouts, ERA and WHIP as well.
If we could offer some advice, we recommend finding a happy medium between those that make finding a reliever one of their top priorities, and those who avoid it like the dentist. Find that next wave of relievers after names like Joe Nathan, Jonathan Papelbon and Mariano Rivera come off the board. Chances are you'll get a nice combination of saves, strikeouts, ERA and WHIP without burning a high draft pick on one of the studs.
Below are some closers that won't cost you a top draft pick, but also ones that shouldn't come up short in the production department.
Carlos Marmol, Chicago Cubs
Marmol is an incredibly intriguing, yet risky closer prospect. He has all the tools and talent to must 40-plus saves, but he is inexperienced and has some control issues. Still, the closer role is all his after Kerry Wood signed with the Indians in the offseason and if Marmol can take the next step forward in his development, he could be in store for a big season.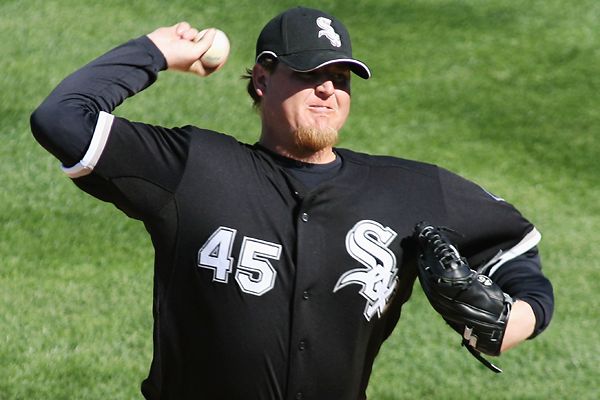 Bobby Jenks, Chicago White Sox
Jenks might scare some owners away this year after having back issues last year. But if he earned 30 saves at less than ideal health and after losing some zip on his fastball, then he's capable of producing 35-plus saves this season now that he's healthy again. If he ever matures, he could be one of the better closers in the league.
Kerry Wood, Cleveland Indians
Wood might be the most intriguing closer in fantasy this year after saving 34 games last season for the Cubs. He joins the Indians this year and if the Tribe bounces back, he has the potential to top the 40 mark in saves. He obviously has to stay healthy, however, and must avoid tiring like he did in the second half last season. (He went from having a 2.43 ERA and 0.86 WHIP to 4.57 and 1.45 in the second half.)
Jonathan Broxton, Los Angeles Dodgers
Don't be scared – Broxton is a stud in the making. The 24-year old has 40-plus save potential and should once again sniff 90 strikeouts, all while keeping his ERA south of 2.80. He has trouble staying consistent at times, but Broxton's 11.4 strikeouts per 9 innings is nothing to scoff at.
Brian Fuentes, Los Angeles Angels
If the Angels give Fuentes as many opportunities for saves as they did K-Rod last year, then the former Rockie could be one of the best bargains in your draft this season. He saved 30 games last year and managed to keep his ERA (2.73) and WHIP (1.10) low. You might be able to put Fuentes down for 35 saves this season, with comparable ERA and WHIP numbers from 2008.
Brian Wilson, San Francisco Giants
Wilson's 4.62 ERA and 1.44 WHIP were nasty last year, but his 41 saves make him an awfully intriguing pick. Now that he has a full season under his belt, he should be able to lower his ERA dramatically, although he must be more consistent and cut down on the walks. Even though he pitches for a poor team, the Giants will give Wilson plenty of opportunities for saves as they have the penchant for playing in a ton of tight ballgames.
Below is our official ranking of relief pitchers.
1. Jonathan Papelbon, BOS
2. Joe Nathan, MIN
3. Mariano Rivera, NYY
4. Brad Lidge, PHI
5. Joakim Soria, KC
6. Jose Valverde, HOU
7. Francisco Rodriguez, NYM
8. B.J. Ryan, TOR
9. Carlos Marmol, CHC
10. Bobby Jenks, CWS
11. Jonathan Broxton, LAD
12. Kerry Wood, CLE
13. Francisco Codero, CIN
14. Brian Fuentes, LAA
15. Matt Capps, PIT
16. Brian Wilson, SF
17. Heath Bell, SD
18. Trevor Hoffman, MIL
19. Frank Francisco, TEX
20. Matt Lindstrom, FLA
21. Mike Gonzalez, ATL
22. George Sherrill, OAK
23. Chad Qualls, ARI
24. Huston Street, COL
25. Joey Devine, OAK
26. Troy Percival, TB
27. Joel Hanrahan, WAS
28. Justin Duchscherer, OAK
29. Brad Ziegler, OAK
30. Brandon Lyon, DET
31. Jose Arredondo, LAA
32. Brandon Morrow, SEA
33. Manny Corpas, COL
34. Chris Ray, BAL
35. Chris Perez, STL
36. J.J. Putz, NYM
37. Fernando Rodney, DET
38. Manny Parra, MIL
39. Dan Wheeler, TB
40. Miguel Batista, SEA
41. Kevin Gregg, CHC
42. Takashi Saito, BOS
43. Grant Balfour, TB
44. Hong-Chih Kuo, LAD
45. Rafael Betancourt, CLE
Posted in: Fantasy Baseball, MLB
Tags: B.J. Ryan, Bobby Jenks, Brad Lidge, Brian Fuentes, Brian Wilson, Carlos Marmol, CC Sabathia, Felix Hernandez, Francisco Rodriguez, Jake Peavy, Joakim Soria, Joe Nathan, Jonathan Broxton, Jonathan Papelbon, Jose Valverde, Kerry Wood, Mariano Rivera