2009 Fantasy Baseball Preview: Starting Pitchers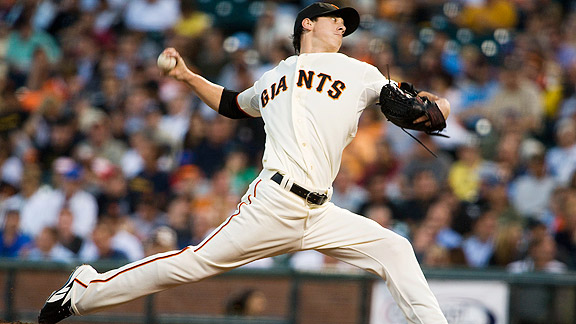 All 2009 Fantasy Articles | 2009 Position Rankings
Admit it, you passed on Tim Lincecum last year. You took one look at his 2007 record (7-5), his ball boy-type frame (he only stands 5'11" and is 170-pounds soaking wet) and the fact that he played on a team with one of the worst offenses in baseball and you said, "no thanks."
But there was one owner (the smart one) in your league that bought into the hype, took a shot and reaped the benefits of Lincecum earning the NL Cy Young Award while going 18-5 with a major league-leading 265 strikeouts and 2.62 ERA.
Don't feel bad; you weren't the only fantasy owner last year that just couldn't pull the trigger on Lincecum. Truth be told, he was a bit of a risk last season given his inexperience and the fact that the Giants weren't expected to give him much run support. And assuming you've played a fair share of fantasy baseball, you've probably been burned once or twice in the past by taking a risk on that perfect young sleeper that everyone is gaga for in spring training, yet fizzles once the season starts.
But Lincecum proved last year that you could find diamonds in the rough that can wind up anchoring your pitching staff for the entire season. You have to be willing to take a risk, however, and select one of those potential gems a round or two before they are projected to go.
Below we've put together a group of young pitchers that might not become the next Tim Lincecum, but ones that could certainly turn out to be tremendous values once the top 15 arms come off the board. We're talking about pitchers who haven't seen their 28th birthday yet (most haven't even seen their 25th birthday yet), but ones that could post 15-plus wins, 150-plus strikeouts and an ERA south of 3.80.
Joba Chamberlain, New York Yankees
Don't think for a second that you'll be pulling a fast one on everybody if you take Chamberlain as your second pitcher – everyone already knows about Joba's potential. But he has struggled thus far in spring training, which means he could drop into your lap as other owners flock to safer pitching choices. Chamberlain has the potential to win 15-plus games, sniff 200 strikeouts and close in on a 3.20 ERA, but he obviously has to cash in on his immense physical talent. If he continues to struggle in spring training, you might land him later than you projected and if you do, he could wind up being the best pitcher on your roster by season's end.
Yovani Gallardo, Milwaukee Brewers
Gallardo will scare away plenty of potential owners after only making five starts in 2008, but he has the talent to post 185-plus strikeouts and produce 15-plus wins. If he stays healthy, he should also keep his ERA south of 3.50 and although you'll land him in the middle rounds, he could project to being a top 25 pitcher. Remember, he had knee issues last year – nothing arm related. The future ace should once again be healthy and he's definitely worth taking a shot on.
Jon Danks, Chicago White Sox
Danks turned down an opportunity to play in the World Baseball Classic, which should only help the youngster's fantasy value. Not unlike Matt Cain, Danks needs better run support in order to cash in on his talent, but he has the potential to total 160-plus strikeouts and 15-plus wins. He might not keep his ERA around 3.30 like he did last year, but it won't go north of 3.90 either. Again, as long as he doesn't get stiffed in the run support department again this year (which is hard to project), there's no telling how good this 23-year old stud can be.
Matt Garza, Tampa Bay Rays
Garza only fanned 128 batters in 184 innings last year, but he was a strikeout machine in the minors so hopefully that will eventually transfer to the big leagues. If the Rays don't take a step back after reaching the Series last year, Garza could notch 14-plus wins and 140-plus strikeouts, all while keeping his ERA south of 3.60. Of all the pitchers we've listed, he certainly doesn't have the highest ceiling, but Garza would be a major value as a No. 2 or No. 3 on your staff.
Scott Baker, Minnesota Twins
Ready to take a shot on a potential stud? Baker is an ace in the making and while he competes in a tough AL Central Division, he could amass 12 to 15 wins and total upwards of 170 strikeouts this season. He probably won't keep his ERA lower than 3.80, but Baker has increased his K/9 rate every year he's been in the big leagues and posted an all time low WHIP last season of 1.18.
Ricky Nolasco, Florida Marlins
Nolasco had a breakout year in 2008, posting 15 wins, 186 strikeouts and a 3.52 ERA. Is there a chance he could take a step back this year? Of course, but you have to like taking a shot on a guy who you can select in the mid to late rounds that could potentially be a top 20 pitcher by the end of the year. Thirteen wins, 160 strikeouts and a 3.70 ERA would be a safe projection for Nolasco this season.
Clayton Kershaw, Los Angeles Dodgers
Much like Joba Chamberlain, you're not going to sneak Kershaw past anybody on draft day because by now, most owners are well aware of the 20-year old's potential. But like Lincecum last year, don't be the guy that passes on Kershaw because you're worried about his lack of experience and the high risk that comes along with drafting him. Kershaw could easily post 170-plus strikeouts and 12-plus wins, although his ERA will probably near 4.00 and he did post 52 walks in 107.2 innings last year, which is high. Still, he's worth a long look on draft day.
Matt Cain, San Francisco Giants
Don't be fooled by his 8-14 record last year; if Cain got any run support, he could easily be as good as teammate Tim Lincecum. Cain posted a 3.76 ERA and compiled 177 strikeouts last year, but since the Giants' offense clearly has a vendetta against him, his effort only amounted to eight wins. Trust us, he has the potential to amass 12 to 15 victories, even though it would appear that his ceiling is right around 10 wins. If he can get a little run support and cut down on the walks, he could turn out to be a top-25 pitcher that you can wait to select in the middle to late rounds. Another Giants' starter to keep an eye on during your draft is Jonathan Sanchez.
Jair Jurrjens, Atlanta Braves
Some fantasy pundits are concerned about Jurrjens taking a big jump in pitches and innings last year compared to 2008. Those concerns are valid since he clearly wore down at the end of the season last year, but he decided not to pitch against The Netherlands in the World Baseball Classic, which is good because he didn't throw any extra pitches in March when needs to save his arm for the regular season. His strikeout numbers won't blow you away (you'll be lucky if he fans 140 batters this season), but he'll keep his ERA around 3.70 and should post 11-plus wins, which is certainly decent output for a No. 3 pitcher.
Below is our official ranking of starting pitchers.
1. Johan Santana, NYM
2. Tim Lincecum, SF
3. CC Sabathia, NYY
4. Roy Halladay, TOR
5. Dan Haren, ARI
6. Brandon Webb, ARI
7. Cole Hamels, PHI
8. Jake Peavy, SD
9. John Lackey, LAA
10. Roy Oswalt, HOU
11. Josh Beckett, BOS
12. Cliff Lee, CLE
13. Chad Billingsley, LAD
14. James Shields, TB
15. Scott Kazmir, TB
16. Ricky Nolasco, FLA
17. Francisco Liriano, MIN
18. Felix Hernandez, SEA
19. Rich Harden, CHC
20. Adam Wainwright, STL
21. Daisuke Matsuzaka, BOS
22. Ervin Santana, LAA
23. Edinson Volquez, CIN
24. A.J. Burnett, NYY
25. Joba Chamberlain, NYY
26. Carlos Zambrano, CHC
27. Javier Vazquez, ATL
28. Jon Lester, BOS
29. Justin Verlander, DET
30. Brett Myers, PHI
31. Yovani Gallardo, MIL
32. Zack Greinke, KC
33. Matt Cain, SF
34. Aaron Harang, CIN
35. Ted Lilly, CHC
36. Max Scherzer, ARI
37. David Price, TB
38. Chris Young, SD
39. Josh Johnson, FLA
40. Erik Bedard, SEA
41. Ryan Dempster, CHC
42. Matt Garza, TB
43. Chien-Ming Wang, NYY
44. John Danks, CHW
45. Brandon Morrow, SEA
46. Johnny Cueto, CIN
47. Jered Weaver, LAA
48. Kevin Slowey, MIN
49. Derek Lowe, ATL
50. Scott Baker, MIN
51. Clayton Kershaw, LAD
52. John Maine, NYM
53. Jair Jurrjens, ATL
54. Randy Johnson, SF
55. Fuasto Carmona, CLE
56. Gavin Floyd, CHW
57. Ubaldo Jimenez, COL
58. Jonathan Sanchez, SF
59. Oliver Perez, NYM
60. Justin Duchscherer, OAK
61. Manny parra, MIL
62. Andy Pettitte, NYY
63. Joe Saunders, LAA
64. Gil Meche, KC
65. Chris Carpenter, STL
66. Mike Pelfrey, NYM
67. Hiroki Kuroda, LAD
68. Wandy Rodriguez,
69. Chris Voldstad, FLA
70. Bronson Arroyo, CIN
71. Kenshin Kawakami, ATL
72. Armando Galarraga, DET
73. Jeremy Guthrie, BAL
74. John Smoltz, BOS
75. Paul Maholm, PIT
76. Aaron Cook, COL
77. Joe Blanton, PHI
78. Todd Wellemeyer, STL
79. Rich Hill, BAL
80. Jesse Litsch, TOR
81. Andy Sonnanstine, TB
82. Dave Bush, MIL
83. Edwin Jackson, DET
84. Jeremy Bonderman, DET
85. Nick Blackburn, MIN
86. Mark Buehrle, CHW
87. Tommy Hanson, ATL
88. Neftali Feliz, TEX
89. Brad Penny, BOS
90. Aaron Heilman, SEA
91. Carlos Carrasco, PHI
92. Shawn Hill, WAS
93. Doug Davis, ARI
94. Carl Pavano, CLE
95. Tim Wakefield, BOS
96. John Lannan, WAS
97. Jon Garland, ARI
98. Dontrelle Willis, DET
99. Kyle Lohse, STL
100. Jamie Moyer, PHI
101. Sean Marshall, CHC
102. Braden Looper, MIL
103. Randy Wolf, LAD
104. Anibal Sanchez, FLA
105. David Purcey, TOR
Posted in: Fantasy Baseball, Fantasy Football, General Sports, MLB
Tags: Brandon Webb, CC Sabathia, Chad Billingsley, Cliff Lee, Cole Hamels, Dan Haren, Felix Hernandez, Francisco Liriano, Jake Peavy, James Shields, Joba Chamberlain, Johan Santana, John Lackey, Josh Beckett, Rich Harden, Roy Halladay, Roy Oswalt, Tim Lincecum