Championship Week Primer: Bubble teams and #1 seeds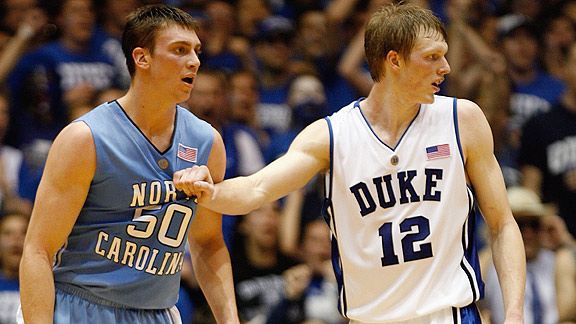 Strap 'em up, kids. Championship Week is upon us!
Gonzaga and Saint Mary's square off tonight in the final of the WCC tourney (9 PM ET, and why isn't this game on national television?), and with the Gaels' #45 RPI, they could really use a win to guarantee a NCAA tourney berth. The good news is that their leading scorer, Patrick Mills, is back, scoring 12 points in 35 minutes in yesterday's win over Portland. If Saint Mary's loses to the 'Zags, it would put the Gaels squarely on the bubble. ESPN bracketologist Joe Lunardi has Saint Mary's as a #10 seed, but I think that assumes that the committee will take Mills' injury into account. After all, he was out of the lineup for three of the team's five losses. Lunardi says that the Gaels are safe, but they don't have a marquee win and are just 2-2 against the RPI top 50, so anything can happen.
But let's move on to the "major" conference tournaments that will take place this week. I'm going to tackle these one-by-one in the order of Jeff Sagarin's conference rankings.
ACC
Lunardi projects six ACC teams – UNC, Wake Forest, Duke, Clemson, Florida State and Boston College – to make the Dance, and of those teams only BC really has anything to worry about. The Eagles (#57 RPI) are probably safe, but a first round loss on Thursday against Virginia might make BC squirm a bit on Selection Sunday.
Miami, Maryland and Virginia Tech are three teams that could play themselves into an NCAA berth with a nice ACC tourney run. What do I mean by "a nice run"? Well, Virginia Tech and Miami square off on Thursday, so if whomever wins gives North Carolina a great game on Friday, that might be enough. The Hurricanes are a bit closer than the Hokies, so VT would probably have to pull the upset against the Tar Heels to earn a bid. Miami could potentially get in with an 18-12 record and a #53 RPI (against the 26th-toughest schedule) if they were to lose to North Carolina.
Meanwhile, Maryland has to beat N.C. State on Thursday and then (at least) pull the upset against the seemingly vulnerable Demon Deacons on Friday.
As far as #1 seeds go, North Carolina pretty much sewed one up with their second win against Duke on Sunday. Neither the Blue Devils nor Demon Deacons would seem to have a shot at one of the other three #1 seeds. It's conceivable that Duke would be able to make a case if they win the ACC Tournament (beating Wake and UNC in the process) and a few of the teams ranked ahead of them have poor conference showings. Despite the brutal schedule (#3) and stellar RPI (3), Duke is realistically shooting for a #2 or #3 seed.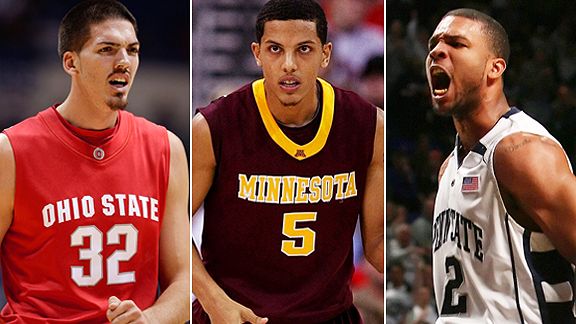 BIG TEN
It's funny, because the conventional wisdom is that the Big Ten is down this season, but it is 2nd in Jeff Sagarin's rankings and Lunardi projects eight Big Ten teams to make the NCAA tournament, the most of any conference. The list includes Michigan State, Purdue, Illinois, Ohio State, Wisconsin, Minnesota, Michigan and Penn State. Three of those teams – Penn St., Minnesota and Michigan – play in the first round on Thursday and they really need a win (against Indiana, Northwestern and Iowa, respectively) to keep their postseason hopes alive.
In the next round, Minnesota would need to compete with Michigan State, Michigan with Illinois and Penn State with Purdue to clinch a spot. If any of these teams are blown out in the next round, they'll be right back on the bubble. With an RPI of 38, the Badgers look to be safe, but a win against Ohio State would seal a bid (and vice versa, if the Buckeyes were to win).
The only team with a legitimate shot at a #1 seed is Michigan State. The Spartans have the #6 RPI and the 8th-toughest schedule, so if they win the Big Ten tourney, they have a great shot to move up to the top line.
BIG EAST
The Big East Championship serves as the actual championship for the conference –they don't recognize a "regular season" champion. It kicks off on Tuesday with the #9-#16 seeds (on BIGEAST.tv) and then on Wednesday the #5-#8 seeds – Marquette, Syracuse, West Virigina and Providence – start play. At 8-10 in conference, Cincinnati is out barring an unlikely four wins in four days scenario. Lunardi currently projects West Virginia as a #7 seed, so they are safe. Likewise, Syracuse (#6 seed) and Marquette (#7 seed) are both safely in.
So the Big East team that can help itself the most is Providence. Lunardi projects the Friars to miss the cut, and with an 18-12 record and a #70 RPI, it's easy to see why. However, if Providence can beat the winner of the Cincinnati/DePaul game in convincing fashion and then give Louisville a great game, it might be enough to earn them a bid. After all, the Friars did beat #1 Pitt just two weeks ago. But a near win against Louisville probably won't be enough; realistically, Providence needs to beat Louisville to secure a berth. That would give the Friars 20 wins and a couple of marquee victories over two of the top teams in the nation.
On the other end of the spectrum, there are three Big East teams — Louisville, Pitt and UConn — that have a legitimate shot at a #1 seed. In fact, Lunardi projects all three as #1 seeds right now, but it is likely that one or more will fall off as the Big East Championship progresses. The Huskies seem to be on the most tenuous footing, given their two head-to-head losses against Pitt in the last three weeks. If both teams survive, Pitt and UConn are projected to meet on Friday, with the winner having a golden opportunity to clinch a #1 seed by winning the next night as well.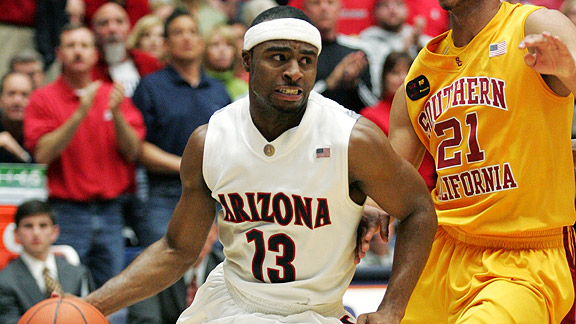 PAC-10
Lunardi says that four Pac-10 teams – Washington, UCLA, Cal and Arizona St. – are already in, while Arizona is holding on for dear life. In fact, he says that they are the very last team in. The Wildcats don't have a great RPI (52), but their SOS (#32) works in their favor.
Arizona is in a tough spot as the #5 seed in the conference tourney because they play a good team (ASU) right off the bat. A win would probably secure a berth, but a loss would probably knock them out. (And you can bet that after living in Arizona's considerable hoops shadow for years, that the Sun Devils would like nothing more than to be the ones to knock their arch-rival out of the postseason.)
On the flip side, it's conceivable that a tournament win would push Washington up to the next line. The Huskies have a strong RPI (13) and have played a tough schedule (#14), so if they can beat UCLA or Cal in the Pac-10 final, they may be rewarded with a #2 seed.
BIG 12
Joe Lunardi currently projects six Big 12 teams – Oklahoma, Kansas, Missouri, Texas A&M, Texas and Oklahoma St. – to make the NCAA tournament. Those teams are seeded #9 or above, so all six would seem to be safely in. The team that can play its way into the tournament is Kansas State. The Wildcats have a 21-10 record, but their RPI (#76) and schedule (#111) are lacking. After a string of victories that included wins against Missouri, Texas and Texas A&M in late January/early February, the Wildcats have gone 4-3 over their last seven, including losses to Kansas, Missouri and Oklahoma St. What's worse, there isn't a good win amongst the four in that stretch. They are likely to play Texas on Thursday, and that's absolutely a must-win game.
If things break the right way, both Kansas and Oklahoma could play themselves into a #1 seed. It would help if they faced each other in the tourney final, and if they beat good competition on the way there (Oklahoma St., Missouri for OU and Texas for the Jayhawks). With a Big 12 tourney win, I think the Sooners have a great shot at a #1 seed if the committee takes into account their 0-2 record without POY candidate Blake Griffin, who was out with a concussion.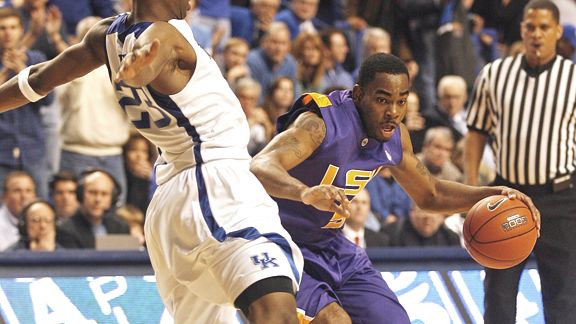 SEC
According to Jeff Sagarin, the Southeastern Conference is a good bit weaker than any of the other five majors, and this makes sense when Lunardi only picks three SEC teams to make the tourney. (That's one fewer than the Mountain West!) The fact of the matter is that the SEC is much more of a football conference than it is a basketball conference right now.
LSU and Tennessee are safely in, and Lunardi projects South Carolina to be a #12 seed so the Gamecocks (along with the Gators) are very much on the bubble. South Carolina needs to win its game on Friday (vs. the winner of the Georgia/Miss. St. game) and could seal a bid with a win (or at least a good showing) in a potential matchup with LSU on Saturday. Regardless of whom they play, the Gamecocks would probably get a berth with two wins in the SEC tourney. Likewise, Florida can play themselves into strong consideration with wins against Arkansas and a pretty good Auburn team. Clearly, a third win (over Tennessee?) would put the Gators back in the Big Dance.
Both LSU and Tennessee are currently projected to be #6 seeds, but a tourney championship for either team could bump the winner up a line or two, especially if the two teams square off in the final.
Posted in: College Basketball, March Madness, Television
Tags: ACC tournament, ACC tournament preview, ACC tourney, ACC tourney preview, Arizona Wildcats, Big 10 tournament, Big 10 tournament preview, Big 10 tourney, Big 10 tourney preview, Big 12 tournament, Big 12 tournament preview, Big 12 tourney, Big 12 tourney preview, Big East tournament, Big East tournament preview, Big East tourney, Big East tourney preview, bracketology, Bubble Talk, Connecticut Huskies, Duke Blue Devils, Gonzaga, Jeff Sagarin, Joe Lunardi, John Paulsen, Kansas Jayhawks, LSU Tigers, Maryland Terrapins, Miami Hurricanes, North Carolina Tar Heels, Oklahoma Sooners, Pac-10 tournament, Pac-10 tournament preview, Pac-10 tourney, Pac-10 tourney preview, Patrick Mills, Penn State Nittany Lions, Pittsburgh Panthers, Providence Friars, Saint Mary's, SEC tournament, SEC tournament preview, SEC tourney, SEC tourney preview, Virginia Tech Hokies