Alex Rodiguez has torpedoed my fantasy draft strategy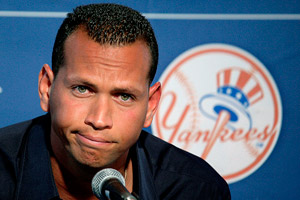 All 2009 Fantasy Articles | 2009 Position Rankings
The collective groan you heard when Alex Rodriguez announced that he would have "hybrid" surgery to repair his injured hip was not solely the work of the Yankee faithful. The ramifications in fantasy circles are staggering, especially if you, like me, happen to have the fifth pick in your draft.
Just a few days ago, I thought I had my draft strategy all figured out. The first round would simply be a matter of which of the Big Five (Hanley, Reyes, Pujols, A-Rod, Wright) fell to me. The mock drafts I conducted a few weeks ago indicated that Wright would be my guy, which was fine with me. The post-surgery view from the five-hole, however, is bleak. The Big Five is now the Big Four – Rodriguez is currently sitting at #49 in my draft room – and whichever player I take with my first pick now feels like a reach. However, after doing some stat sorting, I found my guy. He's a former MVP with pop and speed. So why don't I want to take him?
Because it's the same guy I drafted with my first pick last year: Jimmy Rollins.
Before you Philly fanatics start throwing batteries at me, let me state for the record that I think Rollins is a damn fine ball player (obviously, or I wouldn't have drafted him last year). My reluctance to take him is something that sabremetricians never factor into their projections: keeper fatigue. Truth be told, I'm kind of bored with Rollins. I was really looking forward to owning Wright, or Rodriguez, or someone else, anyone else, besides Rollins. It's nothing personal; his stats are phenomenal, especially at one of the thinnest positions in the game. I just wanted some variety.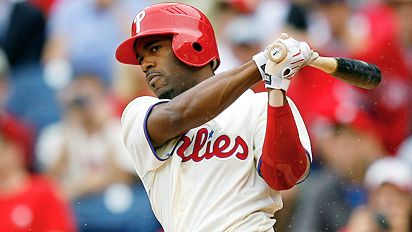 So why not draft someone else, then? Grady Sizemore is sitting at #6, screaming my name. He's 27 – unlike rock stars, 27 is a great year to be a baseball player – and has 40-40 written all over him (plus, my wife thinks he's cute). So why not take him? Two words: position scarcity. Actually, here are two more words: points league. I play in a league that keeps track of 34 different stats (17 for hitters, 17 for pitchers), and the combination of various hits plus stolen bases minus strikeouts, errors and getting caught stealing (once, when I was five) produces some strange results. Case in point: Johnny Damon scored more points last year than Aramis Ramirez, Miguel Cabrera and even Ryan Howard. Rollins, like Damon, isn't as sexy a pick as he once was, but the simple fact is that it's a lot harder to find a shortstop that can score over 500 points (there are three) than it is to find an outfielder (18) or first baseman (seven) that can do the same. In fact, the gulf between Rollins and the next shortstop is nearly 150 points. He was even injured last year, and still outscored the next shortstop by 90 points. The gap between Sizemore and the next outfielder, by comparison, is 30 points, so I can definitely get Sizemore-type production in the second or third round. It's a no-brainer, really.
And I still don't want to do it. Ugh.
That's only half of my dilemma, though; what on earth do I do with Rodriguez? He had the surgery today and is scheduled to return in early May. There is just one problem: we have no idea when he'll really return, and what kind of frame of mind he'll be in when he does. Will the steroids talk have died down for good – insert your own "injury" conspiracy theory here – or will another wave of bad press hit between now and then? Personally, I'm not counting on him playing a game until Memorial Day, but will the other managers downgrade him as much as I am? It's like playing Texas Hold 'Em with baseball players. Hmmm, maybe that's why there has been so much pious talk about how disappointed everyone is with Rodriguez because he tarnished the game, or whatever. People just want to devalue him so they can steal him in the seventh round.
But is even that a safe pick? There are dozens of other, healthier, and most importantly younger players out there. Would a full season of a lesser player be better than four and a half months of Rodriguez? Or are injuries overrated when it comes to the studs? After all, I passed up Pujols in the second round last year because I thought he was one bean ball away from Tommy John Surgery on that elbow of his. Man, did he show me.
So let me hear it, fellow fantasy dorks. What are you planning on doing with A-Rod? Avoiding him altogether, or waiting until the price is right? And what is the right price?