Three free agent moves that made sense, three that didn't and three that have yet to happen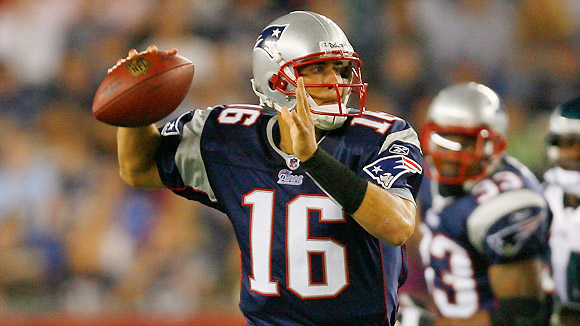 Even though we're not even a week into the NFL free agency period, there is still plenty to talk about. Below are three free agency moves that made sense, three that didn't and three that have yet to happen.
Three moves that made sense:
1. The Giants beefing up their defense with the signings of Canty, Boley and Bernard.
Two years ago, New York befuddled a previously unbeaten Patriots team in Super Bowl XLIII with a constant barrage of pressure from its defensive front four. With that in mind, GM Jerry Reese decided to add more talent to his front seven this offseason with the signings of Chris Canty, Rocky Bernard and Michael Boley. Canty and Bernard will beef up the interior of the Giants' defensive line by adding both size and strength, as well as hopefully boost the production of Justin Tuck and Osi Umenyiora on the outside. Not too many people have heard of Boley, but before he got lost in the shuffle last year in Atlanta, he was on his way to a promising career. Surrounded by the right talent and given the opportunity to play to his strengths in the right system, Boley could become a Pro Bowler someday and eventually excel in New York. They still have to figure out what to do with Plaxico Burress, but thanks to the signings of these three defensive players (coupled with the sensible deal the team signed running back Brandon Jacobs to), the Giants have had one of the best offseasons of any team in the league.
2. The Rams signed the best center on the market.
Since they signed free agent Jason Brown to a five-year, $37.5 million contract over the weekend, all I've read about is how the Rams overspent on a center that has never made a Pro Bowl. But considering Brown was the best center on the free agent market and arguably one of the best players available overall, I don't get what all the criticism is about. Brown is a 25-year old stud that is the first piece in St. Louis's rebuilding plan for the offensive line. Steven Jackson remains the team's best player and what's more beneficial to a running back then having a solid O-line in front of him? Considering the other deals already made so far by other teams, Brown's contract is quite fair given his talent, age and production. If St. Louis selects one of the stud left tackles with the No. 2 overall pick in the draft, they would have made excellent strides in rebuilding their offensive line heading into next season.
3. The Falcons' decision to allow Brooking, Milloy, Boley and Foxworth walk.
On paper, the Falcons' defense took quite a hit this weekend after the team decided to part ways with safety Lawyer Milloy, then lost linebackers Keith Brooking (Cowboys) and Michael Boley (Giants), as well as cornerback Domonique Foxworth (Ravens) in free agency. Brooking's contract was for an undisclosed amount, but Boley got $25 million with $11 million in guarantees and Foxworth received $27.2 million with a whopping $16.5 million in guarantees. Despite losing four players on a defense that helped them make the playoffs last season, the only significant loss was Foxworth, who wound up being Atlanta's best corner after acquiring him in an offseason trade last year with Denver. Milloy and Brooking were outstanding leaders, but both have lost a step and weren't worth the money they would command, while Boley is a potential Pro Bowler but didn't fit in head coach Mike Smith's defensive scheme and lost his starting job to Coy Wire (who the Falcons re-signed) last season. With the Falcons not expected to make many moves this offseason, they stand to gain three or four compensatory picks after losing Brooking, Boley, Foxworth and Milloy next year. In fact, they could eventually land three third round compensatory picks, as well as a fourth rounder in 2010 depending on how much Milloy signs for and produces next season. Granted, Atlanta still has to address all of those needs, but defense was supposed to be a main focal point in the draft anyway and they'll eventually get some decent draft picks to help build a new young defensive corps.
Three moves that didn't make sense:
1. The Redskins signing Haynesworth, Hall and Dockery with limited cap space.
Before the start of free agency, the Redskins were projected to have $8.1 million in free cap space. They cut cornerback Shawn Springs, which upped that number to roughly $14 mil in free cap space, and essentially allowed them to maybe break the bank for one player and still have enough left over to fill needs with mid-level free agents. Instead, the Skins signed defensive tackle Albert Haynesworth to a seven-year, $100 million contract, offensive guard Derek Dockery to a five-year, $26.5 million contract, and re-signed cornerback DeAngelo Hall to a six-year, $55 million contract. Haynesworth and Hall are expected to get most of their money in guarantees in the first three years of their contracts, which means owner Daniel Snyder and Executive VP of Football Operations Vinny Cerrato used a significant amount of cap space on just two players. One notion is that Snyder and Cerrato are banking on 2010 being an uncapped year in the NFL, so they won't have to worry about being over the cap after the 2009 season. If that notion is true, then they've taken a huge risk with Haynesworth and Hall's contracts and it could eventually blow up in their faces as the Skins sink deeper into cap hell.
2. Dan Orlovsky's contract with the Texans.
After trading Sage Rosenfels to the Vikings late last week, the Texans needed a backup for Matt Schaub for next season. So instead of going to the veteran well and reaching out to players like Jeff Garcia, Byron Leftwich or Chris Simms, they decided to go the younger route and ink former Lions' starter Dan Orlovsky. Grabbing a young quarterback to develop isn't a bad idea, but signing him to a three-year deal worth $9.15 million including a $2.4 million signing bonus) was. The Texans handed Orlovsky more than $3 million a year, despite the fact that he has limited starting experience and went 0-7 last season for Detroit. (This is also the same kid that accidentally ran out of the back of the end zone for a safety against Minnesota.) Granted, other teams were interested in Orlovsky, so maybe Houston overpaid for a player that they believe can develop nicely under Gary Kubiak. But $3 mil a year for Dan Orlovsky? Really?
3. The Patriots taking the 34th overall pick in exchange for Cassel instead of the 12th.
On Saturday, the Patriots traded quarterback Matt Cassel and linebacker Mike Vrabel to the Chiefs for the 34th overall pick in 2009 draft. On Sunday, ESPN.com reported that the Broncos, Patriots and Bucs had talked about a three-team trade that would have sent Cassel to Denver, Jay Cutler to Tampa, while New England would get the 12th overall pick in the draft from the Broncos. Why did the Pats give up Cassel for a second rounder instead of a first? One theory is that Bill Belichick didn't want to help his former assistant Josh McDaniels, who is now the head coach of the Broncos. Instead, Belichick chose to help buddy Scott Pioli, who is now the new GM of the Chiefs. Another theory is that Belichick covets second round picks more than high firsts because of the financial obligations that come with signing a high first rounder. But that doesn't make any sense. There's a big difference between what kind of player you can have at 12 as opposed to 34, so the most logical explanation is that Belichick had already talked to Pioli about trading Cassel and even though the Broncos eventually swooped in with a better offer, Belichick honored the deal with Pioli above all else. But the bottom line is that the Pats could have had the 12th overall pick instead of the 34th and they didn't take it. If I didn't fear for my eventual return, I would love to take a walk around the 8th wonder of the world that is Bill Belichick's mind for just one day.
Three moves yet to happen:
1. Jason Taylor will sign with the Bucs.
After being released by the Redskins for salary cap reasons, Taylor became the most sought after pass-rusher on the market. With loads of cap space and a need to upgrade the defensive end position opposite Gaines Adams, the Bucs could make a decent push to sign Taylor and outbid (if they're willing) other teams who are interested. The only issue is that there should be plenty of suitors, with the Bills, Bengals, Cardinals, Lions, Bears and Falcons all looking to address holes at defensive end. Again though, the Bucs have the most cap space in the NFL and Taylor might have a desire to head South again.
2. Kurt Warner signing with a team other than the Cardinals.
Ever since the Super Bowl ended in early February, everyone (including myself) has speculated that Warner would return to Arizona for one last run at a championship before he retired. But when you stop and look at the situation, it almost seems more likely that Warner won't return to Arizona next season. Think about it, Warner's offensive coordinator is now the new head coach in Kansas City and there's also a very good chance that once the dust has settled in free agency, the Cards will deal receiver Anquan Boldin. That's a fair amount of change for a team that just went to the Super Bowl and maybe Warner feels like making a clean break as well. The Cards and Warner also appear to be a couple million apart in terms of a contract offer, which could further complicate things. Warner has already scheduled a trip to visit the 49ers and if they offer him more money, then there's a good chance he could wind up there to finish his career. It still would seem that Arizona is the best situation for him, but if the NFL has taught us anything over the years, it's to expect the unexpected.
3. Ray Lewis returning to Baltimore.
When asked if he would take a hometown discount to stay in Baltimore this offseason, Lewis noted that he doesn't play for less, so he wasn't going to accept less. Then he made it known that he wouldn't mind playing for the Cowboys next season and didn't accept an offer from the Ravens for three-years and $24 million, including $17 million guaranteed. But working against Lewis is the fact that the Cowboys eventually denied interest and then signed linebacker Keith Brooking from the Falcons. Lewis's former coordinator Rex Ryan, who is now the head coach of the Jets, also signed former teammate Bart Scott away from Baltimore, which pretty much means that New York won't make a play for Lewis, either. Once it's all said and done, Lewis is likely heading back to Baltimore after overestimating his market value. The Ravens can't afford to lose Lewis, but he's also 33 years old and started to show signs of slowing down at the end of last season. The three-year deal that Baltimore initially offered seems pretty fair and my guess is Lewis will once again be in a Ravens uniform in 2009.
Posted in: NFL
Tags: Albert Haynesworth, Anthony Stalter, Arizona Cardinals, Atlanta Falcons, Baltimore Ravens, Bill Belichick, Cincinnati Bengals, Denver Broncos, Jason Taylor, Jason Taylor Bucs, Jason Taylor rumors, Kurt Warner, Kurt Warner rumors, Lawyer Milloy, NFL free agency, NFL Free Agency Predictions, NFL free agency rumors, NFL Free Agency Signings, Ray Lewis, Ray Lewis rumors, San Francisco 49ers