NBA trade rumors: Shaq to Cleveland?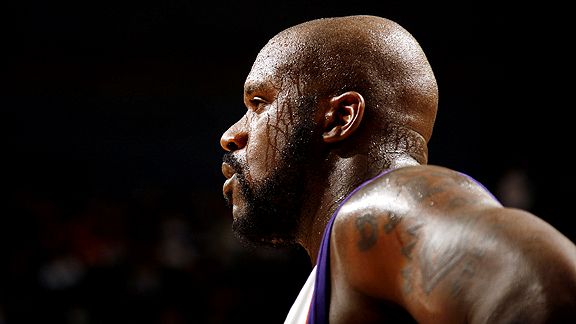 6/16/09 Update: For discussion about the more recent Shaq rumors, click here.

6/25 Update: Shaq has been reportedly traded to Cleveland.
The trade deadline is at 3 PM ET today, and the rumors are flying fast and furious. I'm not going to spend too much time on each one, but here's a rundown of the rumors…
– Yahoo! Sports says that the Cavs are considering acquiring Shaquille O'Neal at the cost of Ben Wallace and Sasha Pavlovic. I'm not sure what the upside is here for the Suns other than the fact that they'd get about $5 million in cap relief next season when Pavlovic's salary comes off the books.
– The NBA league office apparently sent out a memo warning of drastic reductions in the salary cap and luxury tax thresholds, which may have a few teams scrambling today.
– There was some talk of a Tracy McGrady-for-Baron Davis deal, but that rumor seems to be dead.
– The Suns are reportedly still trying to pry talent away from the Grizzlies, offering up Amare Stoudemire for Mike Conley, Rudy Gay, Hakim Warrick and a 2009 first round draft pick. Unsurprisingly, the Grizzlies have declined.
– The Bucks are trying to get out from under Richard Jefferson's contract and they've been making some headway with the Blazers and Cavs about Raef LaFrentz and Wally Szczerbiak, respectively.
– The Cavs have been trying to pry Antwan Jamison away from the Wizards, who might be more willing to deal today with the news about the (possible) significant drop in the luxury tax threshold.
– The Vince Carter-to-the-Spurs talk has died down because they don't want to give up Roger Mason or George Hill in the deal. Apparently, they want the Nets to give Carter away.
Deadline day is like a poker game with 20 people playing. Teams are holding out until the last minute hoping that they can get the best deal. Complicating matters is the state of the economy and the financial strength of the NBA. There could be a flurry of trades today or everyone could stand pat.
Posted in: Fantasy Basketball, NBA, Rumors & Gossip
Tags: Amare Stoudemire, Antawn Jamison, Baron Davis, Ben Wallace, Cleveland Cavaliers, George Hill, Hakim Warrick, Houston Rockets, Memphis Grizzlies, Mike Conley, Milwaukee Bucks, Phoenix Suns, Portland Trail Blazers, Richard Jefferson, Roger Mason, Rudy Gay, San Antonio Spurs, Sasha Pavlovic, Shaquille O'Neal, Tracy McGrady, Vince Carter, Wally Szczerbiak, Washington Wizards