Much Ado About Nothing: The 5 Biggest Trade Deadline Teases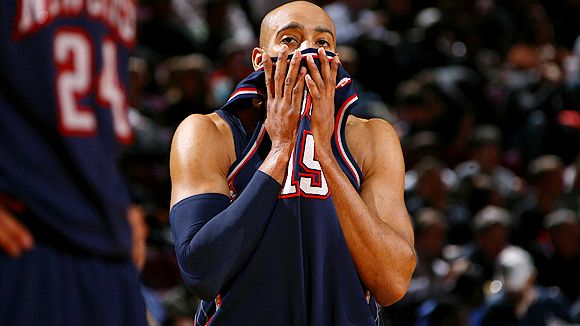 You can blame it on the Grizzlies.
Ever since they traded Pau Gasol to the Lakers for a bag of peanuts and some slightly used underwear, NBA teams have become more and more fickle about pulling the proverbial trigger. With the state of the economy, and some owners desperately trying to cut payroll before the cap and luxury tax thresholds decline, it's a buyer's market out there. And those buyers are looking for Gasol-type deals. On the flip side, Chris Wallace took all kinds of grief over that trade and general managers around the league don't want to follow in his footsteps.
After two or three weeks of covering all of this trade chatter, the biggest deal to speak of is the Shawn Marion/Jermaine O'Neal swap and that happened almost a week ago. Sure, guys like Brad Miller, Andres Nocioni, John Salmons, Rafer Alston, Larry Hughes, Tim Thomas, Chris Wilcox and Drew Gooden changed zip codes, but I doubt any fans out there are sporting wood at the idea that one or more of these players is joining their team.
This year's trade deadline was mostly about teams setting themselves up financially for the next two summers of free agency. Even though there were a number of big names bandied about, the Marion/O'Neal deal is the only semi-blockbuster trade of the season. And, barring some last-minute, late-breaking deal, we have these five teams to blame…
5. San Antonio Spurs
The Spurs were in talks with the Nets about acquiring Vince Carter and also spoke with the Bucks about Richard Jefferson. Either of those players would have been a nice addition, but the Spurs just don't have the pieces (or the balls) to pull off a trade like that. They were willing to trade for Carter, but they didn't want to give up Roger Mason or George Hill. So they offer the Nets Bruce Bowen and Fabricio Oberto. Great, the numbers don't even add up. Don't get me wrong – I don't really think that the Spurs should have given up Mason and/or Hill to acquire Carter. They're arguably the second-best team in the West and their current lineup, if healthy, is likely to give the Lakers fits if the two teams meet in the playoffs with a less-than-100% Andrew Bynum. Plus the Spurs are notoriously conservative when it comes to messing with their chemistry. Jefferson wouldn't have been a problem in that area but Carter might have been. So the Spurs stand pat. Shocker.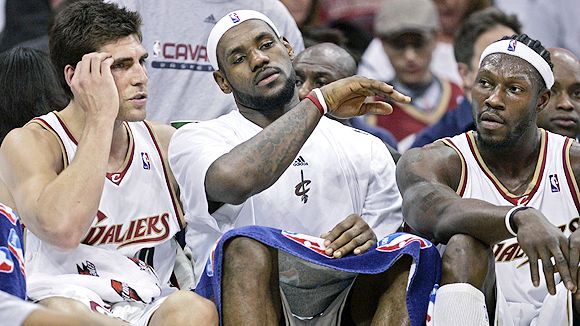 4. Cleveland Cavaliers
In the weeks leading up to the trade deadline, all was quiet on the Cleveland front, but in the last few days, the rumor mill started to churn as Cleveland started to discover what kind of player Wally Szczerbiak's expiring contract could get them. (On a side note, Wally and Raef LaFrentz are two players that join Theo Ratliff on the list of players who ultimately are more famous for their expiring contracts than they are for anything they've done on the court. It's sad, but it's true.) The Cavs reportedly spoke with the Bucks about Jefferson, with the Wizards about Antawn Jamison, with the Nets about Vince Carter and with the Suns about Amare Stoudemire and Shaquille O'Neal. They wanted an upgrade at power forward, so the Jefferson deal didn't make perfect sense, though he and LeBron would be compatible on the wing because they're both versatile players who can defend. The same goes for Carter, but ultimately the Cavs decided to let Szczerbiak's deal expire, which will give them more cap flexibility in two seasons when LeBron (likely) hits free agency. They run the risk of passing on a deal that would have ultimately resulted in an NBA championship, which would have made it very difficult for LeBron to leave Cleveland, but that's impossible to prove.
3. New Jersey Nets
Reportedly, the Nets were literally trying to give Vince Carter away, but had no takers. They spoke with Cleveland, Portland, Houston and San Antonio (and probably others), but were unable to come to terms. He has two years and over $33 million remaining on his contract, so his is a deal that is apparently unmovable in the current environment. No one wants to take on that salary, especially since Carter is already 32-years-old and his salary runs through the 2010-11 season. My guess is that the Spurs would have added him had they been able to convince the Nets that a package built around Bruce Bowen and Fabricio Oberto was enough. If it's true that the Nets were desperate to move him, a Szczerbiak-Carter or a LaFrentz-Carter swap probably would have done the trick, but the Cavs and Blazers apparently felt that Carter wasn't worth the cap ramifications of his contract and ultimately balked.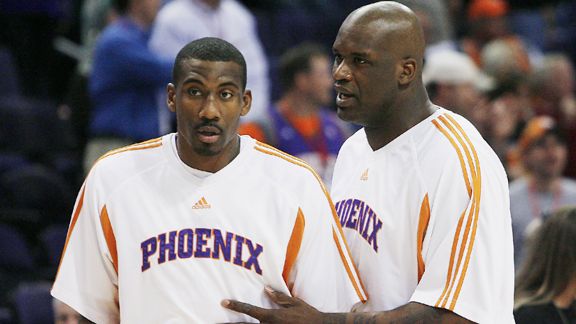 2. Phoenix Suns
Surprised? I thought about putting the Suns in the top spot, but once they jettisoned Terry Porter in favor of Alvin Gentry, it became clear that they felt that Porter was the problem, not Amare Stoudemire. Word leaked that the Suns suddenly became less willing to talk about deals involving Amare, and it probably didn't hurt that he scored 65 points in the two games since Gentry took over. More importantly, the Suns look to be back to pushing the ball, as they scored 282 points in those two wins. (It should be noted that both games were against the Clippers, so it's tough to get an accurate gauge of the effect that Gentry is having.) It was rumored that they were talking about trading Shaq to the Cavs for Ben Wallace and Sasha Pavlovic, but had they pulled the trigger on that deal, they would have been throwing away whatever chance they have at a playoff run this year in order to save about $5 million by acquiring Pavlovic's expiring contract. These new-look Suns could be a factor in the playoffs.
1. Portland Trail Blazers
Ah, the Blazers. They have all sorts of talented pieces and Raef LaFrentz's expiring contract, so they were heavily involved in the rumor mill over the last two weeks. Portland has a reputation for discussing a plethora of different trade scenarios but being very reluctant to pull the trigger, which leads many to believe that most of their trade calls are really just the team's way of gathering intelligence. They were willing to trade LaFrentz and Jerryd Bayless for Stoudemire, but the Suns decided (wisely) that it wasn't enough. They spoke with the Nets about Carter, but wanted New Jersey to throw in a first round pick as well. The same goes for the Bucks, who wanted to send Jefferson to Portland in exchange for some salary cap relief. They also tried to pry Caron Butler away from Washington and Gerald Wallace away from the Bobcats. It's not enough that the Blazers were going to get a talented player for an expiring contract, but they wanted draft picks or a nice young prospect like Ramon Sessions as well. They were one of the few buyers in a buyer's market and ultimately they didn't buy a thing.
Posted in: Fantasy Basketball, NBA, News, Rumors & Gossip
Tags: Alvin Gentry, Amare Stoudemire, Andres Nocioni, Andrew Bynum, Antawn Jamison, Brad Miller, Bruce Bowen, Chris Wilcox, Cleveland Cavaliers, Drew Gooden, Fabricio Oberto, George Hill, Jermaine O'Neal, John Paulsen, John Salmons, Kobe Bryant, Larry Hughes, LeBron James, Los Angeles Lakers, Milwaukee Bucks, New Jersey Nets, Phoenix Suns, Portland Trail Blazers, Raef LaFrentz, Rafer Alston, Ramon Sessions, Richard Jefferson, Roger Mason, Shaquille O'Neal, Shawn Marion, Steve Kerr, Summer of 2010, Theo Ratliff, Tim Thomas, Vince Carter, Wally Szczerbiak