Offseason Blueprint: St. Louis Rams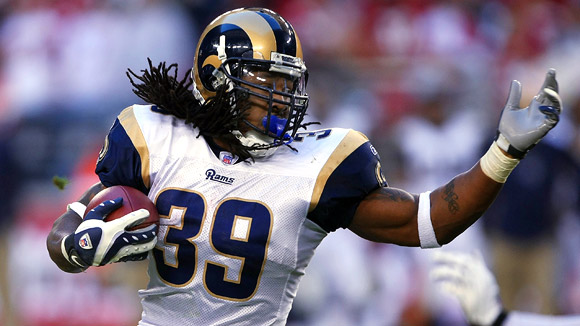 Notable Free Agents: Ron Bartell, CB; Richie Incognito, C; Dane Looker, WR; Dante Hall, WR;
Projected 2009 Cap Space: $8000,000
Draft Order: 2
Top Needs: The Rams have major holes along their offensive line and will likely look to upgrade their linebacker corps and secondary.
Offseason Outlook: Rumors are already circulating that the Rams will part with long-time veterans Orlando Pace and Torry Holt, although don't rule out either player restructuring their current contracts in order to stay in St. Louis. Holt's cap charge in 2009 is $10.25 million and Pace carries a charge of $9 mil next year. Neither player will be in a St. Louis uniform next year at their current prices. The team will either deal the players or flat out release them if they don't agree to restructure their contracts.
The Rams might also consider releasing safety Corey Chavous ($1.2 million), linebacker Pisa Tinoisamoa ($2.25 million), backup quarterback Trent Green ($1.3 million) and defensive tackle Claude Wroten ($726,000) this offseason. Considering they're handcuffed at only $8 million, expect new head coach Steve Spagnuolo and his staff to make moves in order to free up some cap space this offseason.
If the Rams part with Holt, some believe they may target a wide receiver in the draft, possibly even Texas Tech's Michael Crabtree. But don't count on it. Even if the team releases/trades Holt, word is that the Rams love the potential of Donnie Avery and Keenan Burton, and therefore could address other needs with the second overall pick in the draft.
The Rams' draft plans could revolve around what they do in free agency. Apparently free agent center Matt Birk (Vikings) is on the Rams' radar, as well as linebacker Bart Scott (Ravens), even though he's played in a 3-4 defensive scheme his entire career. But with their current cap state, the Rams probably won't be able to add both Birk and Scott without a fair amount of roster movement (i.e. cuts, trades, etc.). If St. Louis can add Birk, they might target Wake Forest linebacker Aaron Curry, who could play either inside or outside in Spag's 4-3 defense. If they land Scott, the Rams could consider Virginia offensive tackle Eugene Monroe with their top pick, which would go a long way in rebuilding their offensive line.
It's also imperative that the Rams re-sign cornerback Ron Bartell, who was a solid player that was overlooked because he played on a bad team. He's prone to following up a good play with two bad ones, but the fact remains that he's the Rams' most underrated free agent and he should get top priority among players they re-sign. (Unlike center Richie Incognito, who proved to be a thorn in the sides of teammates, coaches and even fans last year.)
Perhaps the Rams' offseason game plan should revolve around running back Steven Jackson, who is without a doubt their only marquee player. Nothing helps a back more than having a solid offensive line in front of him, so St. Louis could make a big push to sign Birk, then draft a big-bodied tackle like Monroe or Alabama's Andre Smith with their first pick in April. With the amount of money the Rams committed to both Jackson and quarterback Marc Bulger the past two offseasons, it makes sense to build the offense first (especially considering they play in a dome at least eight times a year), then concentrate on defense. Hiring Spags also plays into the notion of building the offense first, because he arguably can do more with less on the defensive side of the ball by plugging in players that fit his successful scheme.