MMA Fighter Profile: Frank Mir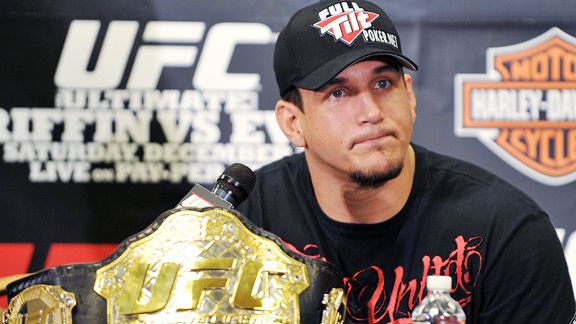 Frank Mir
Nickname: N/A
Height: 6' 3"
Weight: 250
MMA Record: 12-3
UFC Record: 10-3
Fighting Style: Brazilian Jiu Jitsu, Wrestling, Kickboxing
Frank Mir was certainly given the pedigree to fight. His parents run a Kenpo Karate school, he is a former Nevada state-wrestling champion, and he just happens to have a black belt in Brazilian jiu jitsu.
Growing up he sparred with his father and other students in order to get him ready for a martial arts career and after seeing the Gracies and their jiu jitsu destroy people in the original UFCs, he took up wrestling and jiu jitsu.
Mir met UFC's Joe Silva, and talks began about starting to take on local MMA fighters at smaller promotions to see how he'd fair. After going 2-0 he was invited to fight at UFC 34, which he won by submission via armbar. He went on to go 7-1 and fight Tim Silvia for the UFC heavyweight title, which once again he would win by armbar, only this time snapping Silvia's forearm. This earned him his black belt in jiu jitsu.
Everything looked to be going well for Mir. He got married, was a champion, and was making a career out of what he loved. Then in September 2004 he was in a tragic motorcycle accident, one in which shattered his leg.
After finally recovering from the leg injury and getting his mind right again, he finally came back to the UFC.
He had a shaky start, going 1-2 until he decided to dedicate himself to his fighting career once again. Mir has since gone 3-0 and just won the UFC Interim Heavyweight championship by TKO over Antonio Rodrigo Nogueira, who had never been stopped. He is set to face Heavyweight champ and former WWE star Brock Lesnar, which would unite the two titles. Mir already owns a victory over Lesnar.
–Written By TSR Contributor John Duke