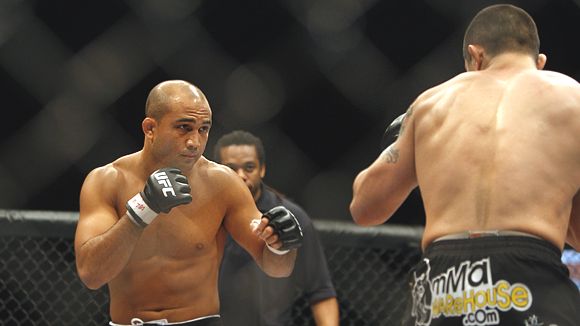 BJ Penn
Nickname: The Prodigy
Height: 5' 9"
Weight: 155/170
MMA Record: 14-4-1
UFC Record: 13-3-1
Fighting Style: Brazilian Jiu Jitsu
"Baby" Jay Dee Penn was born in Kailua, Hawaii and has been fighting out of Hilo at BJ Penn MMA. He is a world champion jiu jitsu competitor, and was the first American to win the World Jiu Jitsu Championship at a black belt level in Brazil. After this victory, the UFC approached him about entering the organization.
The fighting prodigy started out with knockouts of Din Thomas and Caol Uno, both well-respected fighters. He fought Jens Pulver for the UFC Lightweight title, but lost by decision. He would fight Uno once more, drawing again to miss out on the belt. After the UFC stopped the Lightweight division, Penn moved up to 170 to face Welterweight Champion Matt Hughes. He submitted Hughes via a rear naked choke in the first round in a massive upset, earning him his first UFC title.
Contract issues and other organizations caused the UFC to strip Penn of the belt, but he would reconcile and return to face Georges St. Pierre. Even though he lost against St. Pierre and his rematch with Matt Hughes, he continued on, deciding to drop back 155, which was a more suitable and natural weight class.
Penn dominated everyone the UFC threw at him in the 155-weight class, and by doing so he earned his rematch against St. Pierre. If successful, he'll be the only person to have two UFC titles at the same time.
On January 31st Penn vs St. Pierre 2 will show just how good the prodigy is and if he's successful, it'll prove he can fight in two separate weight classes as a champion.
–Written By TSR Contributor John Duke