Mason to retire – will Ravens pursue Marshall or Boldin?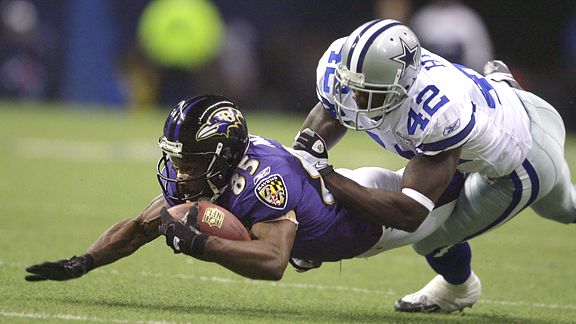 Ravens wideout Derrick Mason made an announcement on JockLife.com (a website owned by his agents) that he is set to retire from pro football.
Mason is coming off shoulder surgery and never got the pay raise that he had requested earlier this offseason, although he claims that his main motivation for waiting to hang 'em up is that he just isn't "emotionally enthused" about playing anymore.
With Mason retiring, the Ravens are now extremely thin at receiver, with Mark Clayton and Demetrius Williams penciled in as the current starters. Considering they're devoid of playmakers, it's easy to speculate that the Ravens might pursue one of the two disgruntled receivers in Denver's Brandon Marshall or Arizona's Anquan Boldin.
Even though he would be a definite upgrade over Mason (and any other Baltimore receiver for that matter), the Ravens might not pursue Marshall considering GM Ozzie Newsome and head coach John Harbaugh are opposed to adding players with character issues. And in the case of Marshall, they wouldn't just be adding a player with character flaws, but they would also probably have to give up multiple prospects to acquire him (plus millions of dollars for a new contract).
Boldin has a few years on Marshall, but he obviously has the talent Baltimore is seeking at receiver. But would the Ravens be willing to part with a first round pick to acquire him? Would they also be willing to shell out the $9 or $10 million that he's seeking?
Another thing to consider is that Marshall and Boldin might not even be available. Sure, their situations with their respective teams look bleak, but that doesn't mean the Broncos and Cardinals aren't hell bent on trying to resolve the issues and keep both players in house. But regardless, Mason's retirement plans certainly bring up a compelling situation in Baltimore now.