Surprisingly, Orlando matches offer sheet for Gortat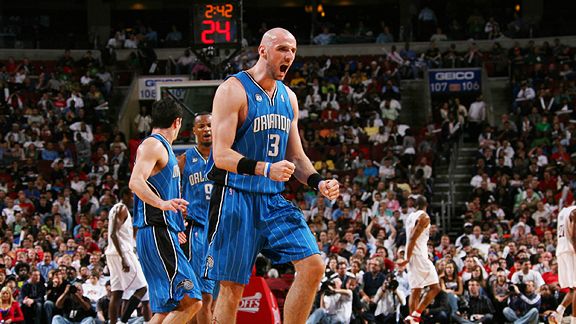 When the Mavs signed backup center Marcin Gortat, it seemed like a done deal that the Magic would let him go. But Orlando elected to match the offer.
The Orlando Magic will keep Marcin Gortat by matching the five-year, $34-million offer sheet extended to him by the Dallas Mavericks, the Orlando Sentinel first reported Monday.

"Having quality big men is an absolute must in our league, and Marcin has worked very hard to fit into that category," Magic general manager Otis Smith said in a statement. "He provides tremendous depth to our frontcourt and we're happy to bring him back."

Gortat's agent, Guy Zucker, told the Dallas Morning News his player is "very, very disappointed."
The decision is a bold and costly one for the Magic, who will plunge further into luxury-tax territory than many rivals anticipated after their recent trade for Vince Carter by first signing Brandon Bass away from Dallas to a four-year deal worth a reported $18 million and then matching on Gortat.

Retaining Gortat and adding Bass will likely take the Magic's payroll into the $80 million range for next season, which would force Orlando to cut a luxury-tax check of more than $10 million in July 2010 barring roster moves between now and June 30 of next year to lower that figure.
I don't get it. They're willing to give Gortat almost $5 million a season, but they refused to give Hedo Turkoglu — the player mainly responsible for handling and distributing the ball during the Magic's run to the Finals — the $10 million per season that he was asking for? I don't mind the Gortat signing by itself, but the Magic may have ruined a good thing by trading for Vince Carter (and in the process, trading away Courtney Lee) and letting Turkoglu get away. Clearly, they are willing to spend — why not keep the most consistent star and main ball handler from last year's conference champs?
But back to Gortat. It's understandable why he would be upset. He was penciled in as the starter for the Mavs, but now he has to play behind Dwight Howard for the foreseeable future, limiting the upside of his next contract. But whining through his agent isn't going to do him any good, is it?
The Magic really screwed the Mavs over on this one. They took their sweet time to match Gortat's offer sheet, and at the same time they agreed to terms with Brandon Bass, ensuring that Dallas wasn't going to be able to sign either player. This is a huge blow to the Mavs' title hopes and is more evidence that the NBA should shorten the time span for a team to match an offer sheet for a restricted free agent.