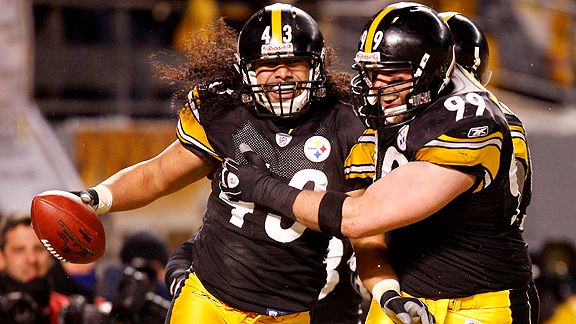 Steelers head coach Mike Tomlin said that the initial diagnosis of safety Troy Polamalu is that he has a sprained MCL and will likely be out for the next three to six weeks.
From the Washington Post:
"It's an MCL sprain," Tomlin said during his postgame news conference. "They are reading the scans and so forth. Those things have a range of three to six [weeks]. It's speculation at this point."

Tomlin was asked if the injury possibly could be worse, and said: "I'm sure there is a possibility of it. But I don't have any concrete evidence that there is anything more than that."

Polamalu suffered the injury when the Titans' Alge Crumpler landed on his knee after a blocked field goal attempt by Tennessee in the first half. Polamalu had an interception and was credited with six tackles before leaving the game.
It looks like the "Madden Curse" claimed another victim. Losing Polamalu for three to six weeks would be tough. Losing him for anything longer than that would be devastating for the defending champs.
The Steelers have a star-studded defense and everyone does their jobs to perfection. But they're a different squad when they don't have Polamalu freelancing and making big plays. He's a missile in run support and blankets the entire field in coverage. They need him healthy and an injury lasting longer than six weeks would take its toll on Pittsburgh's vaunted defense.
Don't forget that the Steelers are already without linebacker Lawrence Timmons, who didn't play last night because of an ankle injury. Depending on his status for next week, the Steelers could be down two key defensive starters and Week 1 still hasn't wrapped up yet.