Georgia Tech most intriguing team heading into 2009?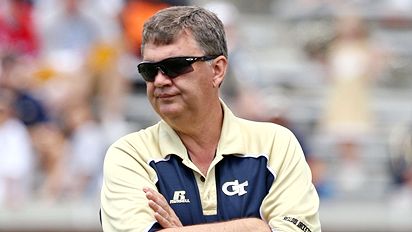 In his "Five questions as college football camps open" piece for the Los Angeles Times, Chris Dufresne writes that Georgia Tech is the most intriguing team heading into the 2009 season.
4. Which is the most intriguing team out there?

Georgia Tech. First-year coach Paul Johnson did something last year that first-year Michigan coach Rich Rodriguez failed to do: He took over a team, junked the scheme, and won anyway.

Georgia Tech finished 9-4 operating Johnson's unique triple-option offense. The Yellow Jackets flourished despite finishing 116th nationally in passing — talk about old-school. Johnson basically now has Navy, where he previously prevailed, only with more quality players. There's no reason to think Georgia Tech can't wreck the winnable Atlantic Coast Conference.
The only concern I see for the Jackets are the losses the sustained along the defensive line. Defensive end Michael Johnson, as well as tackles Darryl Richard and Vance Walker are all gone and those are significant pieces to lose on one line.
Anthony Barnes, Sedric Griffin and Kyle Jackson return to give Tech's linebacker corps some stability and safety Morgan Burnett leads a solid secondary, but if the front four can't generate any pressure on the quarterback, I worry about the Jackets' defense over the long haul.
Still, as the article notes, their triple-option offense will certainly be fun to watch again this season.