Ibanez irate over blogger's PED speculation, but is Inquirer columnist to blame?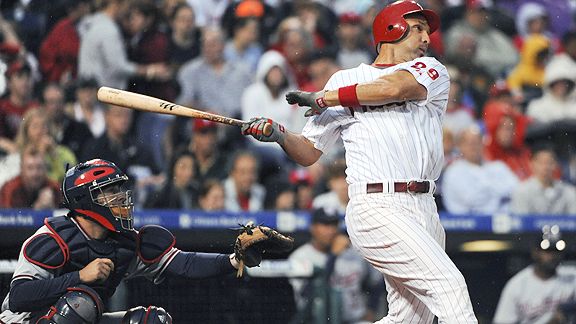 A story gaining major national attention over the last couple days is a story that Jerod Morris of Midwest Sports Fans wrote about 37-year old Phillies outfielder Raul Ibanez, who has been on a tear (.325, 20 HRs, 55 RBI) to start the 2009 baseball season.
The motivation behind Morris' article (which you can read in full here) was to prove that Ibanez's incredible start wasn't due to the possible use of steroids or any other form of performance-enhancing drugs.
Here's an excerpt from Morris' article, although I implore you to read the entire piece because he dedicates most of the post to trying to prove that legit factors (i.e. the ball parks he's played in, the pitchers he's faced, etc.) have led to Ibanez's fast start.
Thirdly, it's time for me to begrudgingly acknowledge the elephant in the room: any aging hitter who puts up numbers this much better than his career averages is going to immediately generate suspicion that the numbers are not natural, that perhaps he is under the influence of some sort of performance enhancer. And since I was not able to draw any absolute parallels between his prodigously improved HR rate and his new ballpark's hitter-friendliness, it would be foolish to dismiss the possibility that "other" performance enhancers could be part of the equation.

Sorry Raul Ibanez and Major League Baseball, that's just the era that we are in — testing or no testing.
The above except was enough to compel Philadelphia Inquirer columnist John Gonzalez to write a piece entitled, "A cheap shot at Ibanez."
Here's an excerpt from Gonzalez's article: