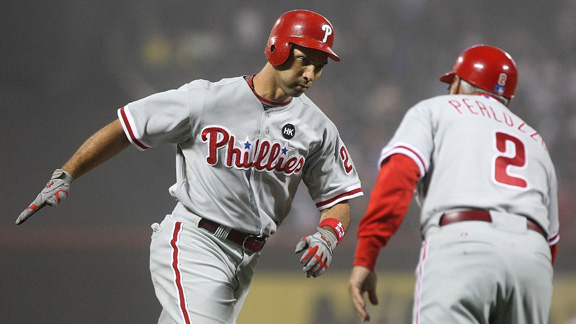 In a rather surprising move, the Phillies have placed outfielder Raul Ibanez on the disabled list with a strained left groin. Though Ibanez missed a start last weekend with a sore Achilles tendon, there had been no mention of a groin injury.
Ibanez is hitting .312 with 22 homers and 59 RBIs. He is second in the National League in both home runs and RBIs. His RBI total ranks fourth in the Major Leagues.

He has struggled recently, though, and seemed to have a little trouble running at times in Wednesday's 7-1 loss to the Blue Jays.

Ibanez said on Sunday that he has had a sore left Achilles because of some bad shoes, but insisted it was not serious.

Ibanez has hit .194 (6-for-31) in his past seven games, although he also has three home runs and five RBIs in that span.
Fantasy owners had been waiting for Ibanez's production to come down and it looks like it's starting to happen, although maybe that's more due to his injuries. Maybe the time off will do the 37-year old some good and he'll come back slugging again in a week or two.