Is the Big Unit's career finished?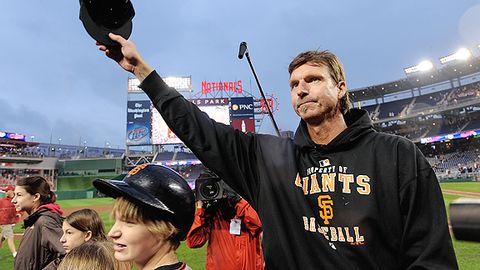 According to the San Francisco Chronicle, Giants' starter Randy Johnson has been diagnosed with a slightly torn left rotator cuff.
Johnson suffered the injury a couple of weeks ago during an at bat. He swung wildly at a Roy Oswalt pitch and was in obvious discomfort while he clutched his shoulder. He attempted to go out the next inning to pitch, but couldn't stay in as the pain increased.
He was supposed to begin a throwing program with the Giants soon, but now he's been ordered to rest for three weeks and might not return at all this season. At 45 years old, this could spell the end of the Big Unit's career.
If it is the end, what an ending it was. Earlier this season, Johnson became the fourth 300-game winner this decade and amassed 4,867 strikeouts over his phenomenal career. He also has racked up 100 complete games, compiled a 3.28 ERA and would finish with an amazing record of 303-165.
Even though his chances of returning this season (and next for that matter) look bleak, I don't want this to be it for the Big Unit. I would love to see him in the postseason just one more time and get a chance to win another World Series. He's a true student of the game and he's the ultimate competitor.
But if he doesn't, Johnson has nothing left to prove to anyone.