Time for Penguins to get creative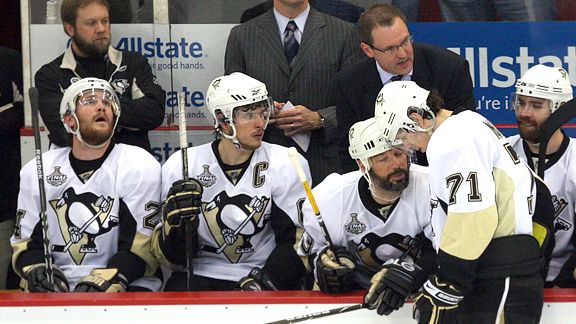 With their 2-1 victory over the Red Wings in Game 6 on Tuesday night, the young Penguins are now one win away from hoisting Lord Stanley's Cup and pulling off the best NHL upset of the decade.
One problem: They can't score at Joe Louis Arena and that's exactly where the decisive Game 7 will be played on Thursday night. In three games at the Joe this postseason, Pittsburgh's managed to score just two goals and were shut out 5-0 in Game 5.
It's time for Dan Bylsma to get a little creative with his front line. Why not put Sidney Crosby and Evgeni Malkin (the Pens' top two scoring threats) together on the same line to increase scoring chances? Some Pittsburgh fans have been clamoring for this to happen since the Pens lost the Cup last year, so why not try it now?
Some might think that it would be unwise to change things up now with only one game left to be played, but now is actually the best time to take a risk like this because Pittsburgh needs to try and overwhelm Detroit they best it can. The Wings play with so much confidence at the Joe, so Byslma needs something to rattle their cage.
Of course, there are two main problems with the idea of putting both Crosby and Malkin together. One is that Pittsburgh has created scoring opportunities in every game this series, but just haven't executed. Secondly, and this is a biggie, if the Pens put Crosby and Malkin together on the same line then that puts Maxime Talbot, Chris Kunitz, Ruslan Fedotenko together on the third line, which needless to say is a major disadvantage for Pittsburgh.
It'll be interesting to see what strategies Byslma comes up with (if any) for Game 7. This one is for all the marbles and it'd be a shame if the Pens left scoring opportunities on the ice when there's only one game left.
Posted in: NHL
Tags: Chris Kunitz, Dan Bylsma, Detroit Red Wings, Evgeni Malkin, Maxime Talbot, Penguins beat Red Wings in Game 6, Penguins rumors, Penguins strategies for Game 7, Pittsburgh Penguins, Red Wings rumors, Ruslan Fedotenko, Sidney Crosby, Sidney Crosby Evgeni Malkin on same line