Tomlinson hurts ankle in Chargers' win over Raiders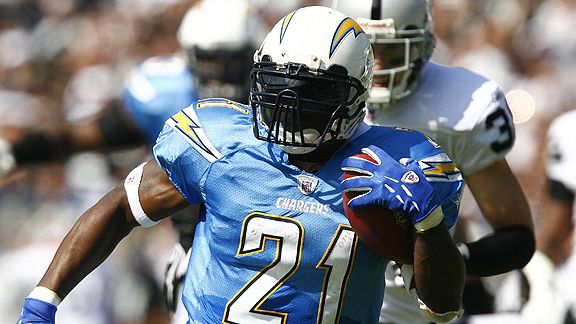 Running back LaDainian Tomlinson rolled his ankle in the first quarter of the Chargers' 24-20 win over the Raiders on Monday night. He returned to the sidelines, but watched as teammate Darren Sproles scored the eventual game-winning touchdown with 18 seconds remaining.
Many thought before the year started that LT would be a candidate to rebound this season, although "rebound" is a relative word seeing as how he still rushed for 1,110 yards and 11 touchdowns in '08.
But regardless of his ankle injury, it now it appears that he and Sproles are going to get equal amount of time in the offense. It's apparent that age has caught up with LT and that Sproles is more of a weapon in the passing game. I assume that San Diego will still split the amount of touches that both backs receive, which means that LT's 300-carry seasons are over.
As for the game, the Raiders played inspired football and actually looked better than the Bolts for much of the contest. If Richard Seymour is upset about being traded to Oakland, he didn't show it last night because he lived in San Diego's backfield.
JaMarcus Russell still has major issues with his accuracy. It's not that he's susceptible to throwing a ton of interceptions (although he did throw two last night), it's just that he misfires badly and usually winds up throwing passes 10 feet over his receivers' heads. Still, he showed flashes of promise and should have had two touchdown passes to his credit last night instead of just one, but receiver Louis Murphy dropped a pass in the end zone towards halftime. (Although it wasn't a clean drop; officials called it a touchdown and then overturned the ruling when they saw Murphy didn't hang onto the ball all the way down to the ground.)