Holliday's error in the ninth costs Cardinals in Game 2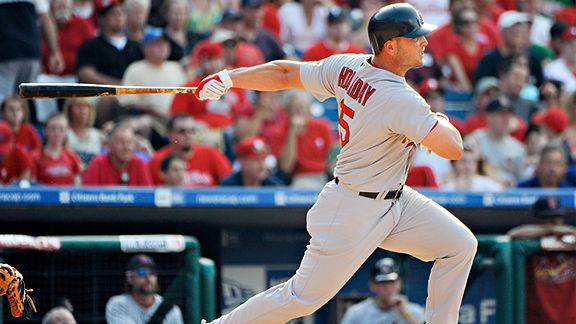 Nursing a 2-1 lead with two outs and nobody on in the bottom of the ninth, the Cardinals looked like they had Game 2 of the NLDS wrapped up, especially when Ryan Franklin got Dodgers first baseman James Loney to hit a routine line drive to left field.
Then Matt Holliday forgot which way to turn his glove.
Holliday muffed the line drive, which turned into a double and put the tying run in scoring position. Two walks and a Ronnie Belliard RBI single later and pinch-hitter Mark Loretta became a hero by driving in Casey Blake with a single up the middle.
The Dodgers took Game 2 of the series and the Cardinals' hopes along with them.
What the loss did to the Cardinals' psyche will be determined later. Manager Tony La Russa tried to put it into words.

"I think it's about as tough a loss as you can have," said La Russa, although he noted that at least his club hadn't been eliminated. "Right now we're feeling disappointed. But we're not discouraged. There's a big difference in the two."
People are going to pin this loss squarely on Holliday, which is fair given that he should have caught the ball and had he, the game would have been over and the Cards would be going back to St. Louis tied 1-1 in the series.
But Holliday wasn't the only one to make a mistake for the Cards in this game. The biggest (well, the second biggest after Holliday's plunder) was probably La Russa not allowing Adam Wainwright to come out in the ninth. Wainwright had thrown more pitches in more outings this year than he did last night and came out for the ninth before. So unless Wainwright told La Russa that he was done, the skipper should have allowed his horse to continue throwing his gem.
Colby Rasmus also made a base running error during the game and was thrown out at third by Loney. Rasmus was hung up in no man's land on the play and cost his team a runner in scoring position.
But give credit to the Dodgers – they've found a way to make Albert Pujols a non factor and the Cardinals haven't found a way to make them pay. That said, St. Louis should have won this game and it'll be interesting to see how La Russa's club bounces back. (If they can, that is.)