Could the Tigers release Magglio Ordonez?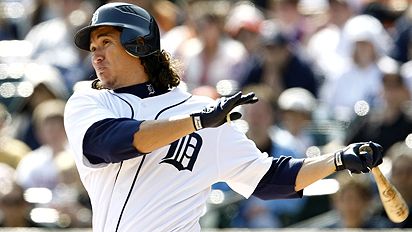 Michael Rosenberg of the Detroit Free Press speculates that if Magglio Ordonez doesn't start hitting soon, the Tigers could eventually release him this season.
It may be too early to bench or release Ordoñez , but it's not too early to wonder about him. Here are some of Ordoñez's numbers entering the Tigers' game in Minnesota Tuesday night: .241 batting average, 108 at-bats, three extra-base hits, sixth in the batting order, 35 years old. I mean, the numbers could be worse. His cholesterol level could be 500. But those numbers are disturbing.

It's not too early to ask questions. And with Ordoñez in 2009, the biggest question is this: Will he stay in the lineup?

It is a $30-million question.

At the end of this season, the Tigers will either pick up an $18-million option on Ordoñez or pay him a $3-million buyout. The Free Press Math Department tells me that's a $15-million difference. Then there is another $15-million option for 2011.

I doubt the Tigers want to pay Ordoñez $30 million when he is 36 and 37 years old. Manager Jim Leyland has already dropped him in the lineup and started to remove him for defensive purposes. You don't do that if a guy is worth $15 million a year.

But getting out of this contract is like getting out of the little island of Manhattan at rush hour: It seems like it should be easy, but it isn't. Ordoñez's agent, Scott "I know you hate me, but give me an hour and I'll get you to pay me to hate me" Boras, negotiated trigger clauses into this deal. If Ordoñez has 135 starts or 540 plate appearances this season, his 2010 option becomes guaranteed. And if he has 270 starts or 1,080 plate appearances between this season and next, his 2011 option becomes guaranteed.
If Ordonez was hitting well, then it would be foolish for the Tigers to release him just to save money. But he's currently one of the worst hitters on the team and as the article points out, why continue to play him so he reaches the appropriate amount of plate appearances and therefore assure that his contract is guaranteed? If he continues to struggle, why not release him and save that money so GM Dave Dombrowski can dump it into more productive players next year?
The only issue is whether or not the Tigers would be on the hook for Maggs' salary if he reaches 135 starts or 540 plate appearances with another team. I would assume they would only be responsible for a certain amount, but I don't know the details of his contract so I can't answer that question.