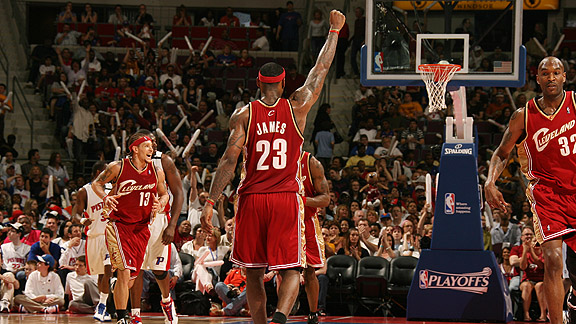 According to reports, the NBA will name LeBron James its Most Valuable Player later today.
The Associated Press and Cleveland Plain Dealer, both citing a league source, report that James is to receive the award at his preps alma mater, St. Vincent-St. Mary High School in Akron, Ohio.

James would become the first player in franchise history to win MVP honors. He also finished second in voting for defensive player of the year.
No surprise here. Given his stats, his improved defense, the nature of his supporting case (particularly when compared with Kobe's) and the Cavs' league-best record, LeBron is the clear choice for MVP. Kobe fans do have an argument (i.e. the West is tougher, so the record is misleading), but their guy won last season, so he would have had to be the clear winner to really have a shot, if that makes any sense.