2009 CFB Preview: Ole' Miss Rebels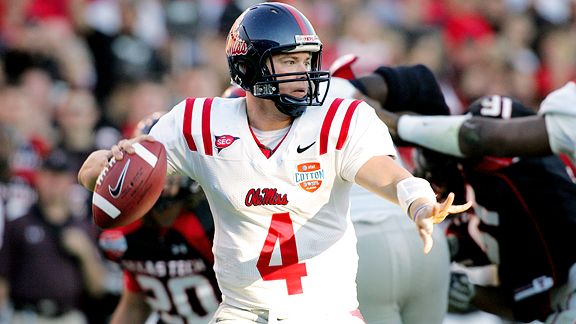 Check out our other 2009 college football previews.
Preseason Ranking: No. 8 in AP Top 25; No. 10 in USA Today Poll.
Key Returning Players: Jevan Snead (QB); Dexter McCluster (WR); Shay Hodge (WR); Cordera Eason (RB); Daverin Geralds (C); Gerald Harris (TE); Kendrick Lewis (S); Greg Hardy (DE); Jonathan Cornell (LB); Ted Laurent (DT); Kentrell Lockett (DE); Marcus Tillman (DE); Cassius Vaughn (CB); Allen Walker (LB).
Key Losses: Peria Jerry (DT); Michael Oher (OT); Chris Bowers (DE); Mike Wallace (WR); Jason Cook (FB); Jamarca Sanford (S); Terrell Jackson (S); Tony Fein (LB); Ashlee Palmer (LB); Dustin Mouzon (CB); Maurice Miller (G).
Player to Watch: Greg Hardy, DE.
Some were probably expecting quarterback Jevan Snead to be listed here – and for good reason. The athletic signal caller totaled 2,762 passing yards and 26 touchdowns in his first year as the Rebels' starting QB and many believe that Snead is the reason Ole' Miss has a chance to surprise this year in the SEC. But Hardy, with his career 32.5 tackles and 21.5 sacks, will unquestionably be the best player that suits up for the Rebels this season. Had he not decided to stay in school, he likely would have been a top 5 pick in April's NFL draft. He terrorized SEC quarterbacks last season, namely Florida's Tim Tebow in the Rebels' massive upset of the Gators in "The Swamp." Hardy should once again prove why he's one of the best defenders in the nation and he was born to play on Sundays.