Jays might expand deal for Halladay to include other players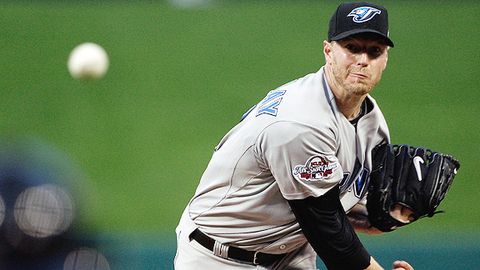 If (and that's a big if) Roy Halladay gets traded in the next two weeks, the deal might include one of the Blue Jays' other players too.
Say a team needs a middle infielder … hop aboard, Marco Scutaro.

If someone needs bullpen help … Jason Frasor or Scott Downs could join Halladay.

If a club needs a lefty specialist … Brian Tallet could join Halladay on a plane out of Dodge.

"We've been told that the deal could expand, depending upon our need," said an American League scout.

Scott Rolen has drawn interest from the Cincinnati Reds, but now the Reds look as if they will be sellers rather than buyers.

The Jays have scouted the Philadelphia Phillies' class-A Clearwater club this week and watched Kyle Drabek's start for double-A Reading at Altoona last night.

The Jays have watched the Milwaukee Brewers' affiliate at triple-A Nashville, where shortstop Alcides Escobar, 22, is hitting .298 with three homers and 29 RBIs with 33 steals in 91 games. Scouts compare Escobar to a young Derek Jeter … "without the intangibles."

Third baseman Mat Gamel, who turns 24 this week, is hitting .336 with eight homers and 31 RBIs in 33 games at Nashville.

The Jays also have scouted class-A Greenville, part of the Boston Red Sox organization. Kyle Evans, a second Sox scout, showed last night, joining scouts from the Los Angeles Dodgers, the Brewers and the Phillies.
I'm starting to have the mindset that Halladay isn't going anywhere. I think Toronto GM J.P. Riccardi is playing everyone. He's dangling Halladay out there to see what kind of coup he can expect next year when he really has to trade Halladay before the ace becomes a free agent. If he gets a massive offer this year then obviously he's going to listen, but I don't think he's going to get a massive offer and therefore Halladay is staying put for another year.
I just don't think Riccardi is ready to trade his most popular player yet. I think he's getting the fans ready for the enviable; Halladay will be traded next summer.