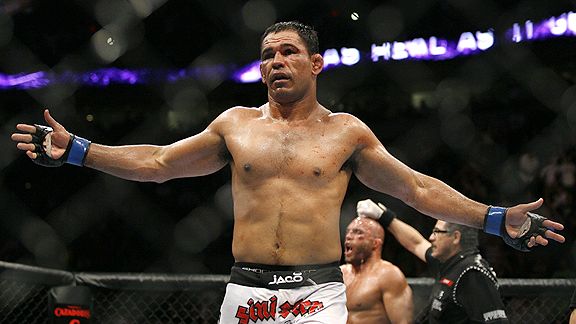 Here's a weekly rundown of MMA content from Ben Goldstein of CagePotato.com:
– Antonio Rodrigo Nogueira conquered fellow MMA legend Randy Couture at UFC 102 last Saturday, while Nate Marquardt, Thiago Silva, and Todd Duffee scored some memorable knockouts. Despite his loss, Couture signed a new contract with the UFC that will keep him fighting in the Octagon until he's damn near 50 years old.
– MTV "Bully Beatdown" host Jason Miller vowed to "beat the piss out of Jake Shields" when the two fighters meet, and explained his obsession with Twitter.
– We came across an MMA sponsor that's even more embarrassing than Condom Depot.
– Former NFL player Marcus Jones will be battling for a UFC contract on the upcoming season of The Ultimate Fighter. He credits his start in MMA to one fateful "man-cation."
– Mike Swick dropped out of UFC 103 due to injury, Sean Sherk dropped out of UFC 104 due to "injury," and Quinton Jackson dropped out of UFC 107 due to the demands of his movie career. Luckily, BJ Penn will fill in for Rampage as a headliner.
– Strikeforce heavyweight Brett Rogers has come up with the worst strategy possible for beating Fedor Emelianenko.
– Former UFC ring girl Edith Labelle said she was fired over a bout of food poisoning that just happened to *look* like a bad hangover.
– We watched a life-affirming MMA highlight reel, Anderson Silva's dead-on Randy Couture impression, and a behind-the-scenes look at King Mo's demolition of Mark Kerr.