Jahvid is the Best Heisman candidate nobody is talking about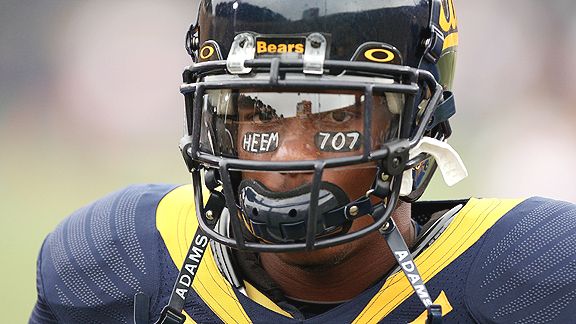 While unranked Minnesota did its best to try and knock off No. 8 California at TCF Bank Stadium on Saturday, the Golden Gophers eventually fell victim to a 35-21 defeat and another dazzling performance by Bears running back Jahvid Best.
While players like Florida's Tim Tebow, Texas' Colt McCoy and before he was injured, Oklahoma's Sam Bradford are receiving more Heisman attention, Best remains the one candidate that nobody seems to be talking about, yet could emerge out of nowhere to win the award in 2009.
Best was outstanding in Cal's win on Saturday, racking up 131 yards and five touchdowns on 26 carries. While Minnesota did a great job bottling Best up in the second half (he only rushed for 17 yards in the second half, compared to the 114 yards he produced first), his two touchdown runs in the fourth quarter sealed the victory for the Bears.
What's most impressive about Best is his patience. He allows running lanes to appear and once they do, he uses his quickness and explosion to get up field and into open space. And once he does reach open field, he's virtually impossible to catch unless defenders take the right angles.
Another thing that's so impressive about Best is that even when he's bottled up, he still finds ways to gain positive yards. There were several times throughout the game on Saturday where he could have been held for no gain, yet he fell forward for two or three yards to set his team up in a positive situation for the next play. He's fun to watch and he's going to give Tebow and McCoy a run for their money in this year's Heisman race.
I can't talk about this game without mentioning how impressive Minnesota receiver Eric Decker is. He was the Gophers' offense today, hauling in eight passes for 119 yards and two touchdowns. His touchdown grab early in the second quarter when he leaped in the air and managed to get one foot down knowing that he would take a hit (and he took a massive hit) was incredible. When he left the game due to an ankle injury late in the fourth quarter, Minnesota QB Adam Weber was completely lost.
If Decker can stay healthy, he's the type of receiver that pro teams love to place in the slot. He fits that Brandon Stokley, Brian Finneran mold to a T.