Iowa has giant fourth quarter, defeats Indiana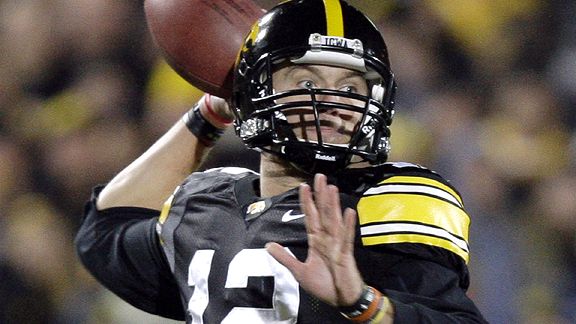 This game wasn't pretty. Actually, it was downright brutal at times. There were nine turnovers in total, but this isn't to say either Indiana or Iowa's defenses were stellar. Indiana exposed the Hawkeyes' defensive weakness throughout the first three quarters. Yet, Iowa's offense exploded out of nowhere in the fourth, leading their team to a 42-24 victory.
Nevertheless, people will continue to downgrade Iowa's high ranking. Now with a 9-0 record, it's tough to devalue their season. We'll see how the rest of today's games play out, but Iowa is currently one of seven undefeated teams in the Top 25. They don't demonstrate great football by any means, but damn are their games exciting to watch. They have trailed in eight of their nine competitions this year, and have managed to come back to take each one.
Nevertheless, Iowa and quarterback Ricky Stanzi were shoddy at best until the fourth quarter. People will cite this as justification to knock Iowa down a few slots in the rankings. I completely agree with that sentiment. Iowa, the No. 4 team in the nation, should not trail a meager Indiana squad for most of the game. Stanzi threw five (I know) interceptions today. That's inexcusable — he would be benched if it wasn't for their record. But how in the hell have they managed to remain undefeated? The fourth quarter.
Somehow, Stazi came out with an undeterred confidence and immediately connected with star receiver Marvin McNutt for a 92-yard touchdown pass. Minutes later, Stanzi found Derrell Johnson-Koulianos for a 66-yard touchdown. By then, Iowa had found their groove. Stanzi continued to feed the ball to running back Brandon Wegher, who is subbing for the injured Adam Robinson. Wegher exceeded expectations, scoring three touchdowns on 119 yards and 25 carries.
While Iowa fans are drunk on happiness, detractors of the BCS system are fuming. With their improbable season, Iowa's game against Ohio St. is going to be essential viewing. Who expected that?