Lawson, Williams & Henderson — moving up?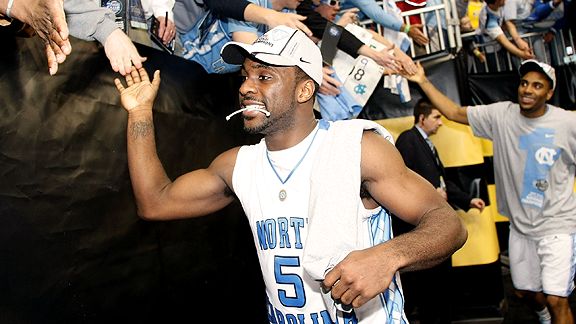 On his draft buzz blog, Chad Ford lists a few guys that may crash the top 10 next week.
North Carolina's Ty Lawson has taken some abuse during the draft workout process, but it sounds as though teams are starting to come around. Lawson was, without question, the most productive point guard in the draft. Teams are skeptical because of his size and his style of play. But he's been great in several recent workouts according to sources and apparently is in the mix with the Knicks at No. 8 if guys like Curry and Hill are off the board. Lawson also is still on the board at No. 10 to Milwaukee and the Pacers at No. 13 and the Sixers at No. 17 are also giving him a serious look. If Lawson ends up crashing the top 10, that would probably push either Holiday or Flynn out.

Louisville's Terrence Williams is another player who is a potential lottery crasher. The Warriors have been high on Williams all year and will seriously consider him at No. 7. And Williams also seems to have seriously moved into the mix with the Nets at No. 11 and the Bobcats at No. 12. In fact, sources say that Williams has been invited back to Charlotte for a second time. One league source says that he's leapfrogged Duke's Gerald Henderson on Larry Brown's board.

The final guy to watch is Henderson, who is getting a serious look in New York, Toronto and Charlotte. In each case I think there are players ahead of him on each team's draft boards, but under certain scenarios I think he could go 8 to 12. However, if DeMar DeRozan is on the board at No. 9, I think he's going ahead of Henderson in Toronto. And, if the source on Williams is to be believed, it's possible that Henderson could slide out of the lottery.
Regular readers know I've been high on Lawson throughout this entire process despite all the negative feelings towards his game. Given his production and performance at North Carolina, I think he'd be a steal for a team in the middle of the first round looking for a point guard. The Pacers (#13), the Sixers (#16) and the Hawks (#19) all would be good fits. I'd be surprised if he cracked the top 12, as the Bobcats (#12), the Nets (#11), the Bucks (#10) and the Raptors (#9) already have their point guards. (Though Milwaukee may be in the market if they are dumb enough to let Ramon Sessions walk.)
As for Williams, he's not much of a scorer, but he can play defense, distribute the ball and rebound really well for a wing. I'd still take Henderson over Williams because he is just as athletic and has proved that he can improve his offensive game. Williams has the better handle and is the better passer. There is a lot of margin for error when trying to predict where these guys will go because this draft is relatively thin at shooting guard. The only true shooting guard in the top 10 is Harden. Curry, Evans and Holiday are considered to be combo guards, and DeRozan looks like a swingman. Then there are Henderson, Williams, Budinger and Ellington to round out the first round.
Comments Off on Lawson, Williams & Henderson — moving up?

Posted in: NBA, NBA Draft, News, Rumors & Gossip
Tags: 2009 NBA Draft, Gerald Henderson, Gerald Henderson draft, Gerald Henderson rumors, NBA Draft rumors, NBA rumors, Terrance Williams, Terrance Williams draft, Terrance Williams rumors, Ty Lawson, Ty Lawson draft, Ty Lawson rumors