FSU trustee ready to kick Bowden to the curb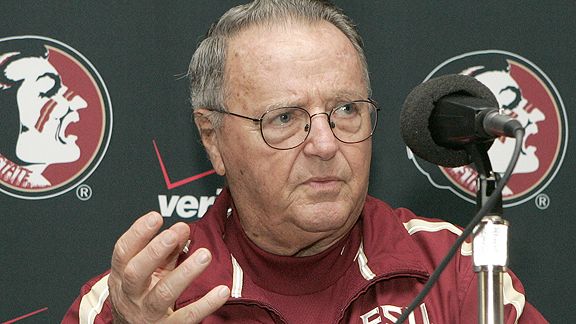 FSU trustee Jim Smith told the Tallahassee Democrat on Sunday that he'd like to see the Bobby Bowden era end at Florida State with the program continuing to decline.
"My hope is frankly that we'll go ahead, and if we have to, let the world know that this year will be the end of the Bowden era," chairman Jim Smith told the Tallahassee Democrat on Sunday. " … I do appreciate what he's done for us, what he's done for the program, what he's done really for the state of Florida.

"I think the record will show that the Seminole Nation has been more than patient. We have been in a decline not for a year or two or three but I think we're coming up on seven or eight. I think enough is enough."

Bowden had no comment Monday night.

Interviewed by The Associated Press on Monday, Smith said the arrangement with Bowden as head coach and his successor, Jimbo Fisher, as offensive coordinator isn't working.

"We've got too many bosses out there," Smith said. "Jimbo is in a very, very tough situation where people assume he has a whole lot more authority than he really has. He's getting blamed for a lot of things that's just not his fault."
This situation reminds me of "Any Given Sunday" when Christina Pagniacci couldn't wait to get washed up Tony D'Amato out of the way to bring in the young-gun Nick Crozier.
Even though the program has declined over the past couple years, this seems like a shady thing for Smith and the boosters to do. Bowden's 384 wins are three shy of Joe Paterno's, who is the career leader in victories among major college head coaches. For a booster to open his mouth and essentially say that Bowden's time is over is arrogant.
If Smith isn't careful, Bowden may step down as head coach at FSU and then sprout up at Duke while taking Steamin' Willie Beamen with him.