Edison Volquez likely to miss a year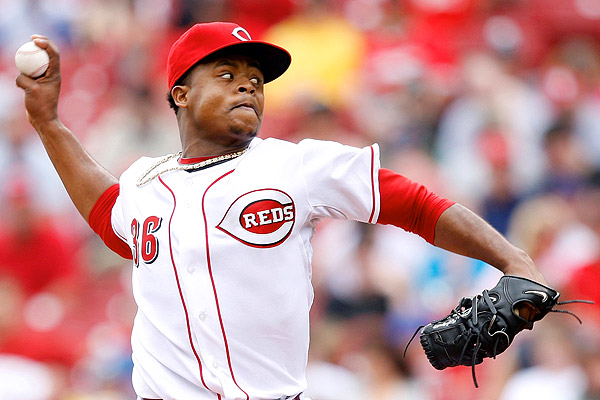 Edinson Volquez, the lone solid arm in the Cincinnati Reds rotation, is expected to miss a year after having reconstructive surgery on his right elbow.
Volquez had Tommy John elbow ligament replacement surgery to repair a torn ulnar collateral ligament and torn flexor mass in his right elbow. Reds medical director Dr. Tim Kremchek performed the 90-minute procedure.

A 17-game winner and an All-Star last season, the 26-year-old Volquez is 4-2 with a 4.35 ERA in nine starts this season. He hasn't pitched since June 1, when he threw one inning vs. the Cardinals in his first start back from a disabled list stint for back spasms.
While it was exciting to watch the Reds compete during April and May, the Reds seem to be falling out of the playoff hunt. Volquez looked like he was the only safe bet on the Reds pitching staff, but one can never tell with a young pitcher if they can consistently throw a solid game. Look at Matt Garza. Still, Volquez was pitching really well before this injury and now his future is in jeopardy. Even worse, Johnny Cueto and Bronson Arroyo are becoming less effective.
Nevertheless, the Reds have the talent to develop into an above-average team. Joey Votto and Brandon Phillips can hit the hell out of the ball. Also, the acquisition of Scott Rolen adds a needed bat to their lineup and if Jay Bruce can return from the DL and get his batting average up, the Reds should be able to score with ease. The next step is to get their rotation in order. Unfortunately, Volquez is the missing link as the Reds never seem to make moves for any big arms.
The Reds currently have one of the youngest rosters in baseball. Like many teams, injuries and slumps have screwed up their season. Hopefully, Volquez can rebound from the dreaded Tommy John surgery and return to form as quickly as possible.
Comments Off on Edison Volquez likely to miss a year

Posted in: MLB
Tags: Brandon Phillips, Bronson Arroyo, Cincinnati Reds, Edinson Volquez DL, Edinson Volquez elbow, Edinson Volquez out a year, Edinson Volquez surgery, Edinson Volquez Tommy John surgery, Joey Votto, Johnny Cueto, Scott Rolen