DeAngelo Hall: Al Davis didn't know Tom Cable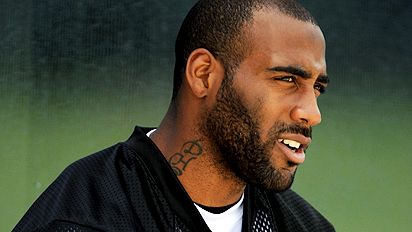 Current Redskin and former Raiders' cornerback DeAngelo Hall appeared on a Washington D.C. based radio show recently and told an interesting story about Oakland owner Al Davis not knowing who Tom Cable was when he hired him.
The funniest Al Davis story from his time in Oakland?

"Probably the funniest thing, I was pretty close to Lane Kiffin…and after they fired Lane and were about to announce who the next coach was – I don't know if you guys saw this in the media world, but I was actually sitting there live, me and a couple other players there in the back. And [Davis] went through this whole spiel of what happened…and said our next coach is Tom Cable, he's going to be our interim coach. When everybody paused for Tom to come in, like a breakoff. [Davis] goes to the media guide and not even whispering says 'hey, anyone got any information on this Tom Cable guy, I don't know where he comes from.' That's just vintage Al Davis. Making a move, not really knowing why, no real justification for doing it. But just saying, 'hey, I want this guy, let's get him, I'll figure everything else out later.' And that's just how Al Davis is."

His thoughts on being out of Oakland:

"Oh, it's a weight off my shoulders, just that whole situation out there and the way they did things. I'm not knocking it but it wasn't what I was accustomed to, what I was used to, and I just started just not caring like a bunch of other guys, you know. It kind of rubs off on you. They say you go to Oakland as a player to die..You can definitely go there and have fun towards the end of your career, but to go there during the prime of your career, that's just not a place you want to be. I felt the same when I was out of there – just a sigh of relief to get out of there."
For as zany as Al Davis is, I highly doubt he would hire a head coach not knowing who he was. I also highly doubt that Davis would say what Hall says he did in front of an entire media staff. (And loud enough for Hall to hear it in the back, but not loud enough for the media members to hear it in the front.) It just sounds like Davis didn't know where Cable was from (i.e. where he was born, raised, bred, etc.), which isn't as big of a deal as Hall making it sound like Davis hired Cable not knowing who he was.
His second comment is vintage Hall and vintage Raiders. Hall isn't saying anything that former Raiders haven't said before about the situation in Oakland, but it doesn't surprise me in the least that he says that he stopped caring. The Raiders handed him a $70 million contract and $24 million in guaranteed money and he couldn't even make it half a season without throwing in the towel. I know the situation in Oakland lends to guys quitting, but it pisses you off when you hear about guys making millions of dollars to play football and they just go through the motions. (Especially in this economy.)