Vikings' Williams Wall and Saints' Grant and Smith expected to be suspended four games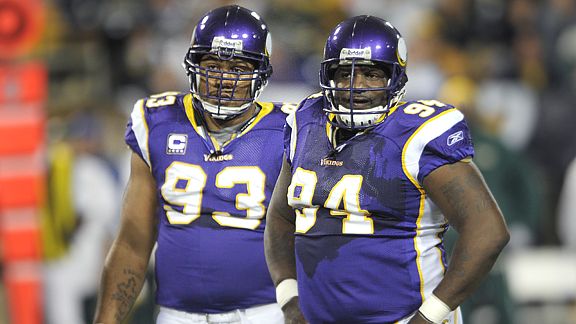 According to a report by Yahoo Sports, a federal judge has ruled that the NFL can suspend the five players that took StarCaps last season. The five players include Pat Williams and Kevin Williams of Minnesota, Charles Grant and Will Smith of New Orleans, and free agent Deuce McAllister.
A federal judge dismissed the claims of five NFL players who had been suspended last season for use of a banned diuretic in the diet supplement StarCaps. Among the five are four starting defensive linemen for the Vikings and Saints, including Pro Bowl defensive tackles Pat Williams and Kevin Williams(notes) of Minnesota and starting defensive ends Charles Grant(notes) and Will Smith(notes) of New Orleans.

All four are expected to sit the first four games of next season without pay. Their suspensions had been blocked last season while U.S. district judge Paul Magnuson heard arguments from the league and the NFL Players Association.

The league had suspended the four defensive linemen and then-Saints running back Deuce McAllister(notes) last season after they tested positive for the diuretic Bumetanide, which flushes water from the body and is considered a masking agent for steroids. McAllister is currently unsigned, but also faces a four-game suspension.
This is a massive blow for the Vikings and Saints. Minnesota loses the backbone of its defense, while New Orleans loses its two best pass rushers. A four game suspension only amounts to a fourth of the season, but it's still enough to have a ripple effect that could carry throughout the rest of the year, especially if one (or both) of the teams starts 1-3 or 0-4.
Perhaps the only good news for both teams is that they now have an entire summer and preseason to prepare for not having these players at the start of the season.
Posted in: NFL
Tags: Charles Grant, Charles Grant suspended, Deuce McAllister, Kevin Williams, Kevin Williams suspended, Minnesota Vikings, New Orleans Saints, NFL players suspended, Pat Williams, Pat Williams suspended, Saints rumors, Vikings rumors, Will Smith, Will Smith suspended