Report: Westbrook out until Week 1 with high ankle sprain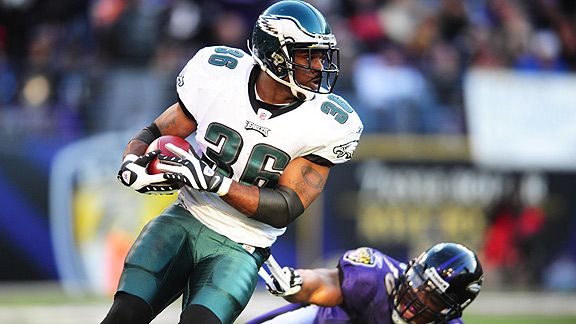 According to a report by Comcast Sportsnet in Philadelphia, Eagles running back Brian Westbrook will be sidelined until at least Week 1 of the regular season due to a high ankle sprain.
Comcast SportsNet reported that Brian Westbrook was examined by ankle specialist Dr. Mark Myerson in Baltimore on Wednesday and may need to undergo a procedure to clean out the ankle. Either way, according to the report, Westbrook is done until the start of the regular season.

The only official comment thus far from the Eagles came from offensive coordinator Marty Mornhinweg who said that he wasn't "concerned" about the injury after discussing it with Westbrook on Tuesday afternoon.

While working out recently, the ankle began to bother Westbrook and he contacted head athletic trainer Rick Burkholder to check on it. Andy Reid said on Tuesday that Westbrook would see a doctor, but again, there has been no official update from the team since.
Considering he'll turn 30 in early September and averaged just 2.9 yards per carry in Philly's last six games of the 2008 season, this is incredibly damper news for the Eagles. As the article states, the team hasn't officially stated that Westbrook will miss camp and preseason, but let's assume for a moment that the report is true.
Philly did draft "Shady" McCoy in the second round this year, but he wasn't considered a prospect that could be an every down back and he had injury issues himself while at PITT. The Eagles also have Lorenzo Booker, who is a poor man's Westbrook but like McCoy, isn't considered an every down back. In seven games for the Dolphins last year, Booker rushed for 125 yards on 28 carries.
If Westbrook is out for the rest of the summer, the good news is that McCoy and Booker will receive plenty of reps. But nobody should be surprised if the team signs a veteran as insurance. Edgerrin James is still available, as is Deuce McAllister, although he's expected to be suspended for the first four games of the 2009 season, so it's doubtful the Eagles would add him. Another cheap option would be to bring back Tony Hunt, who was released last October by the Eagles but is a player that has experience in the offense.
It'll be interesting to see if the team makes this news about Westbrook official.