Chad Pennington's season likely over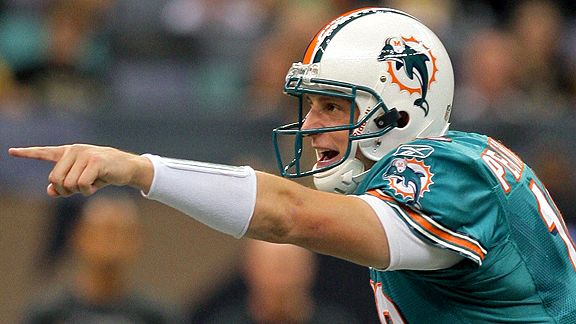 ESPN's Chris Mortensen is reporting that Dolphins quarterback Chad Pennington's season is likely over after he suffered a torn capsule in his right throwing shoulder in a loss on Sunday to the Chargers. Pennington is seeking a second opinion, but it looks like Chad Henne will be the full-time starter now in Miami.
The team has not yet confirmed the severity of the injury. But Dolphins TE Anthony Fasano told the AP earlier the team was preparing to move on with backup Chad Henne.

"We're going to have to go out there with Henne, who is a lot less experienced," Fasano said. "There is definitely going to be a learning curve for Henne. He can learn as much as he wants in a classroom, but until he's out on the field, in-game experience he's not going to learn."

Rookie Pat White, who's seen action in the Dolphins' Wildcat package thus far, is the only other QB on the roster.
White would be an intriguing option to start, but he doesn't have any experience running a pro style offense because he played at West Virginia, which ran a spread option attack. So the Dolphins are essentially forced to start Henne and keep using White in the Wildcat.
This is a massive blow to Miami's season. Pennington was limited as a passer, but he's one of the most underrated quarterbacks in the game just based on his ability to read defenses and get the ball out of his hands quickly.
Unless Henne turns out to be the next Tom Brady off the bench, the Dolphins are going to struggle to even going .500 this year. They're already 0-3 and play in one of the toughest divisions in football.