Bucs release Brooks, Dunn, Galloway, Hilliard and June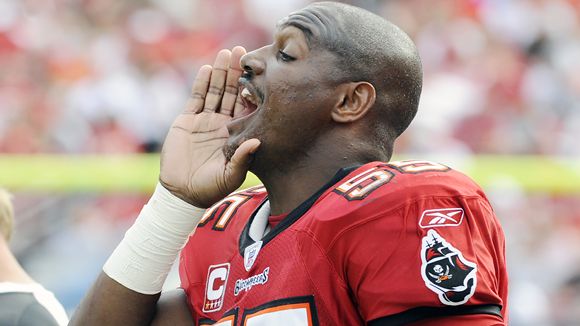 In one sweeping move, new Buccaneers GM Mark Dominik released veterans Derrick Brooks, Warrick Dunn, Joey Galloway, Ike Hilliard and Cato June on Wednesday according to the Tampa Tribune.
Tampa fans will be outraged at seeing the names Brooks, Galloway and Dunn (even though he played in Atlanta four of the past five seasons), but June is the only surprising cut. The rest are cap casualties whose salaries have exceeded their on-field production.
Still, this must be a sobering day for Bucs fans, which no doubt will miss what Brooks, Galloway, Hilliard and Dunn brought to the field every Sunday. All four are consummate professionals who are team-first players and in the case of Brooks, he essentially carried Tampa to a Super Bowl victory in 2002.
With June's release, it's clear that new defensive coordinator Jim Bates wants bigger athletes on that side of the ball. June is a sideline-to-sideline player and is solid in coverage. But obviously Bates wants his linebackers to be tough, physical and always thinking run-first. Goodbye Tampa 2, hello more conventional defense.
With the departures of Brooks, Galloway, Hilliard, Dunn, Jon Gruden, Bruce Allen and Monte Kiffin, it's clearly an end of an era in Tampa.
Posted in: NFL
Tags: Bruce Allen, Bucs cut Derrick Brooks, Bucs release Cato June, Bucs release Joey Galloway, Bucs release Warrick Dunn, Cato June, Derrick Brooks, Derrick Brooks cut, Ike Hilliard, Joey Galloway, Joey Galloway cut, Jon Gruden, Monte Kiffin, Tampa Bay Buccaneers, Warrick Dunn, Warrick Dunn cut